Back in 2010, I posted an article on some best practices when having canvas prints made of your artwork or photographs. A lot has changed since then so I thought it would be a good idea to revisit this topic and update accordingly.
First, understand the inks we use nowadays since then have both improved in both durability and color gamut. The canvas we use too has improved considerably. Not that prints from over a decade ago are poor quality but the canvas prints today are just plain better.
So if you are considering printing your photos on canvas or need to create canvas prints of your artwork, I provide you with some tips and helpful information to get started. Even if you are not a professional artist or photographer, you can still follow this advice.
What if I Still Don't Understand?
I know that a lot of our users are professionals or serious hobbyists but a growing number of our users are not and simply like the printing options we offer for their personal photos. We recognize there are some people for whom the simplest of computer tasks are challenging and working with a picture on their computer or mobile device might not be the most intuitive thing. There is nothing wrong with that so if you are not comfortable with ordering canvas prints yourself and need some assistance, in 2023 we plan on offering an affordable white glove service and a designer will work with you to create a beautiful canvas print from your photos. But most likely you just want to do it all yourself by uploading your image and previewing it online without any help. If that latter part describes you, please read on.
Protective Coating is Now Not a Thing
A lot of our competitors will only offer one type of canvas. Usually, it is either a gloss, satin (semi-gloss), or matte.
It used to be after a print comes off the printer we would need to apply a protective coating with a spray gun. The finish itself was water-based, odor free, and would not harm the environment. If you are familiar with acrylic paints which are used by artists, the coating was very similar to some of the acrylic gels used to thicken the paints. But today, this is no longer necessary. Now the canvas we use and inks resist scuffing and scratching actually better than what the coated and treated canvas did way back when.
Customers may opt for matte when they want a true matte surface.  One of the other big advantages to this now is matte canvas prints can be truly matte. When we had to coat the canvas, even the matte version of the spray tended to leave a slight glazed or satin appearance since the only way to give it enough protection, we had to really pile it on. Usually, it would have two or three heavy coats. The end results were a more muted or diffused color gamut with the print. Now that no coating is necessary, you get a better representation of the image when printed. Plus the matte truly is matte.
But even with the improvements in the matte canvas, the gloss canvas always and still looks more refined and finished. Customers can appreciate how colors and tones appear to show better contrast. It is not a plastic-looking gloss but more like a luster look you would expect from a painting or quality portrait with a varnish.
And if you are on the fence, consider the Artisan Archival Canvas. It has a slight (very slight) gloss sheen which is why some might consider it a satin canvas but it is barely detectable. One improvement it has over matte is better contrast. It is also generally a little less expensive.
Finally, if you want something really cool, then we also have a metallic canvas. I would suggest reserving images such as HDR photography or black and white images for it since the metallic appearing base gives the image on canvas a neat and artistic look that photographers are familiar with that have printed on a pearlescent or metallic photo paper.
Solid Sides and Image Overlap
If you have purchased canvas prints with solid sides before, you probably noticed that the image slightly overlaps the edges of the canvas by approximately 1/8 inch. This is common practice in the canvas printing industry and ensures that when viewed head-on, the print's sides/edges are not visible.
Layout Concerns and Image Wrapping
If you are ordering a canvas print in which the image is going to be wrapped (gallery wrap), make sure you account for the amount of the image that wraps around the sides. Check our mounting options for the frame's thickness.  If you want a 16×20 with a thick wrap (1 ½ thick) and the image is to wrap around, make sure your image size is the equivalent of a 19×23 to account for the 1 ½ thick sides, top, and bottom of the canvas stretcher frame.
For the thin, you would instead need to account for 3/4 on each side which means a 16×20 would be best suited with an image that is formatted as 17 ½ x 21 ½ inches.
Also, be aware that canvas "stretches" when mounted.  Different factors, such as overall canvas size, temperature, pressure via the mounting machine and more can affect how much.   It is hard to predict exactly how much but just make sure you keep the main subject matter of your image positioned so it is not too close to the edge and overlaps on the top, bottom, or sides.
For instance, if you add margins, decorative edges, or borders around the image or have a signature in the corner you might be at risk of some of it wrapping around the sides if it is too close to the edge. It's totally normal for a small amount of what is normally reserved for the face of the canvas to creep onto the sides. Again, predicting how much is not always possible so some variations of a little more or less than 1/8 of an inch is not unusual.
Stretcher Frames
We offer three mounting frame thickness levels: 3/4″, 1 1/2″, and 2 1/2″. The actual materials are made of kiln-dried wood and fabricated in such a way they are very strong, and resistant to warping yet lighter than most other stretcher frames. We cut these approximately 1/8 smaller than the listed size so that they can fit within a frame's insert area (rabbet) without issue.  It used to be all stretched canvas prints we did were machine-mounted but we now do many by hand simply because we get a better and more controlled stretch, leading to a better-looking stretched canvas.
You can opt for a thin mount (3/4 thick) but these frames are really best suited for a canvas that is going to be inserted into a decorative frame meant to hold a mounted canvas. The exception might be smaller canvas prints up to about 11×14. You may still opt to wrap the image or select solid color sides and hang it unframed but many professionals feel a canvas will look less impressive or even cheap when displaying a smaller canvas print unframed.  We tend to agree which is why we always display thicker mounted canvas at shows and or events we sponsor.
The most popular is the 1 ½ or thick mount. This is ideal for canvas prints in which the image wraps or you opt for solid color sides.  Typically prints about the size 11×14 or larger will look great on this mounting style.  The only downside is if you plan on framing the print you might have to shop around a bit more to find one which can contain a print this thick.
In addition to stretched canvas prints, we also have an option for mounting the canvas on a panel substrate like artboard. It used to be we were one of the few companies that do this because getting the back of the canvas to adhere to anything is challenging. Now it is a little more mainstream but I believe in many cases ours our better since we dry mount the canvas using professional framing equipment while others might use pressure-sensitive adhesives which may not hold the canvas as well. Canvas prints mounted this way provide some advantages with framing since you can essentially use any frame you would typically use with a paper print.
Last, Keep in Mind Canvas Does Shrink
Canvas is a fabric. Even the high-quality canvas we use which is a poly-cotton blend will have some shrinkage after it is coated with the protective coating. This is normal and a nonissue when we are stretching and mounting your canvas. The general elasticity of the canvas will be enough to compensate for the shrinkage. If doing the stretching and mounting yourself, normally the stretcher bars you purchase are a tiny bit shorter than they are advertised therefore you should not have any problems with the shrinkage issue.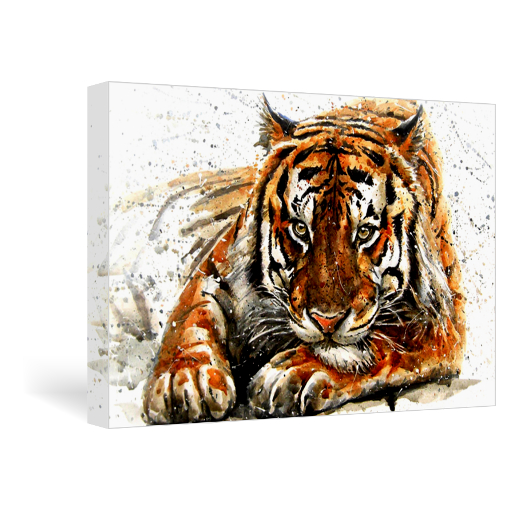 Order Giclee Printing on Canvas
Printed using some of the highest archival standards in the industry, your photos or artwork will last for decades to come.