Choosing the right paper for your art prints is a crucial decision that can significantly impact the visual appeal and longevity of your artwork. With various paper options available, it's important for artists to understand the different types and their unique characteristics. Let's explore the importance of paper selection for art prints and provide insights into different paper types, allowing you to make informed decisions that align with your artistic vision.
First Consider the Properties  You Want
– Archival Quality: Look for papers that are acid-free and lignin-free to ensure longevity and prevent yellowing or deterioration over time.
– Surface Texture: Decide on the desired surface texture that complements your artistic style. Options include smooth, textured, or heavyweight papers, each providing distinct visual and tactile effects.
– Weight and Thickness: Choose a weight of paper that suits your artwork. Lighter weights work well for delicate or smaller prints, while heavier weights offer durability and a premium feel.
– Color and Brightness: Evaluate the color and brightness of the paper. Some papers have a bright white tone, while others may have warmer or natural tones that can affect the overall appearance of your prints. This may mean for a wider color gamut, you will want a brighter white paper but for a more traditional look then usually a less bright paper is better.
– Finish and Coating: Consider whether you prefer a matte, satin, or glossy finish. Additionally, some papers may have coatings that enhance color vibrancy, protect against fading, or provide a subtle sheen.
Basic Matte Papers
A basic matte paper will have a non-reflective surface with a smooth or lightly textured finish. They offer a classic, elegant look with minimal glare and can showcase fine details and textures effectively.
These papers are often favored for artwork with intricate details, black-and-white prints, or images that don't require intense color saturation. They also work well for prints that will be displayed under direct lighting to minimize glare.
At FinerWorks there is a lot to choose from that fall under this category. The most popular is the Archival Matte Paper but if you want something a bit higher end consider the Entrada Rag or even the Hahnemühle Photo Rag.
Glossy Papers
Glossy papers have a shiny and reflective surface that enhances color vibrancy and provides a high-contrast appearance. They offer a vibrant, sharp, and dynamic look that can make colors pop.
Glossy papers are suitable for artwork with vivid colors, high-contrast compositions, or images that require a glossy, polished finish. They are commonly favored by our photographers or artists looking for a more contemporary aesthetic.
Generally, glossy papers are not as popular with traditional artists but if you are up to a little experimenting, the Hahnemühle Photo Gloss Baryta is probably the most notable if you want something a little more textured, consider the Hahnemühle Photo Rag Baryta which has a very subtle texture.
Traditional Looking Fine Art Papers
These are often made from cotton or alpha-cellulose fibers, offering exceptional archival quality and a luxurious feel. They have a variety of textures, such as smooth, textured, or watercolor-like surfaces, adding depth and character to prints.
These types of fine art papers are popular among artists who want to replicate the look and feel of traditional art mediums. They are suitable for a wide range of artistic styles, including drawings, paintings, and digital art, adding a tactile element to the prints you can appreciate by touch.
There is a lot to choose from at FinerWorks. When it comes to giclee printing, most of our papers are cotton or alpha-cellulose based. Probably the two most popular would be the Watercolor Bright White, Premium Giclee Natural, and Premium Giclee Bright White. These are note worthy with our users because of their prominent texture which enhances the appearance of the print.
Other Specialty Papers
These would include unique options like metallic, pearl, or canvas-textured papers. They offer distinct visual effects and can add a touch of luxury or artistic flair to your prints.
Other specialty papers are a good choice when you want to create a specific visual impact, such as metallic or iridescent reflections, a pearl-like shimmer, or a canvas-like texture. They are great for limited edition prints or adding a unique touch to your artwork.
If you are interested in a paper that falls under this umbrella, consider either the Archival Canvas or the Metallic paper.
If you are just starting, consider ordering one of our Sample Kits. Not only will it allow you to see the potential print quality these papers offer but it also allows you to feel the texture and weight of the papers.
Selecting the right paper for your giclee prints is an essential aspect of presenting your artwork in its best possible form. By considering factors such as archival quality, surface texture, weight, color, finish, and coating, you can choose a paper that enhances the visual impact and longevity of your prints. Whether you opt for matte, glossy, fine art, or specialty papers, understanding their unique characteristics empowers you to make informed decisions. To learn more about the papers we offer for giclee prints, visit our fine art papers page at FinerWorks.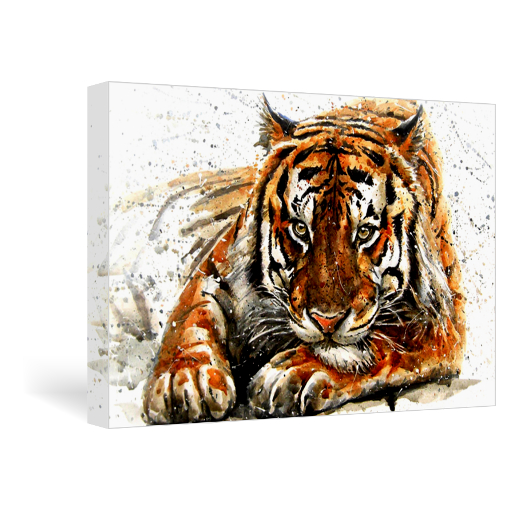 Order Giclee Printing on Canvas
Printed using some of the highest archival standards in the industry, your photos or artwork will last for decades to come.