We have plowed into our busiest time of year at full speed. We have at least two things to announce which have come about quite suddenly. First, and most exciting to many of our customers is that we changed to a higher quality gloss canvas that many of our professionals who have used various high end color labs will likely be familiar with. Second we because we are getting much busier, we are extending our hours into the weekend both for production and customer service.
This past summer we introduced the Sunset Select Gloss canvas, a popular canvas favored by many photographers and artists alike. Those looking for a high quality canvas knew that they could not go wrong with such a selection. However, in pursuit of the most archival quality canvas possible and in line with our practice to stick with brand names that have been able to prove themselves in the fine art printing field, we decided to make a change with our gloss canvas. The Sunset Select Gloss canvas was highly regarded but we were getting a lot of heat from canvas print enthusiasts who have used us in the past. The question was why had we not adopted Breathing Color's Crystalline Gloss Canvas instead. Those that are less familiar with the Breathing Color brand, they a leader in the canvas printing industry that giclee printing services and a number of popular professional photo labs use. When I hinted to some of our local photographer friends found out we were considering this switch they let me know it would be the right decision. I can also hear a lot of those same folks saying "its about time".
This slightly heavier canvas is a 440 gsm vs 430 gsm canvas. It delivers industry-leading dmax and a color gamut a step above every other glossy available today. All I could say when I first saw a print we tested with it was "wow!" And of course it is ideally suited for high-end fine art reproductions just as much as for photography. Those that like to paint over their canvas prints will find it handles acrylic as well as oils just as well.
Admittedly the for the casual canvas print customer they may not see a big difference between the old gloss canvas and Crystallne gloss but it is possible that some of our more avid customers may be pleasantly surprised, especially if you are one that has had trouble matching certain tones on your gloss canvas prints prior to now.
The Crystalline gloss is also an OBA free canvas like our most popular canvas, the Sunset by Fredrix Matte Canvas. This means there are no optical brighteners! While modern OBAs are relatively safe and used in many archival rated media, including some of the top rated fine art papers in giclee printing, I have to admit when we can find a good quality canvas without OBAs we have to give it some serious consideration. What I have also discovered is when I soft proofed some images in comparison to the previous gloss canvas, there were fewer instances of gamut warnings which is a good indication of a superior color matching. If like me, you like to soft proof, you can download our color profile for this canvas at your convenience on our
canvas page
. And if you like to print black and whites on canvas, this is really the canvas for you. Slight color casts on our fine art papers, matte and gloss canvas are not a problem now days so great looking black and whites are the norm. But with the Crystalline gloss canvas' higher DMAX, the range from white to gray to black is just jaw dropping.
Finally we find the inks bond to the Crystalline Goss Canvas much better meaning the print tends to be more resistant to damage from improper handlng or friction. Some of the gloss canvas we have experimented with in past years has had trouble in this area. Usually inks bond to the matte canvas much better. Now that problem is no longer there. Actually we find much better bonding of the inks to the canvas surface even better than on the matte canvas and possibly as good as our ecnomical Fredrix Artisan Canvas which uses solvent inks.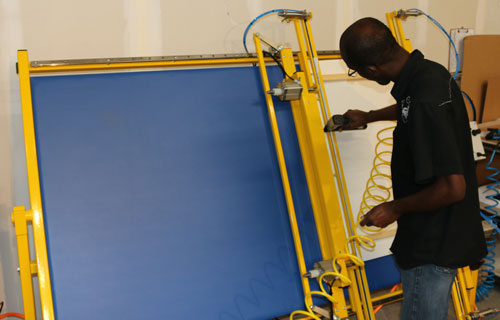 This week we added an additional high speed canvas mounting station to speed up canvas gallery wrap production.
If for some reason you absolutely have to have the Sunset Select Gloss Canvas and are not ready to switch to the "superior" Crystalline Gloss Canvas, please let us know. We can continue to keep some in stock for a short while longer. Just make sure you e-mail us immediately after you order so that we can make the appropriate switch.
To encourage you to try out the new gloss canvas, we are offering it at 33% off the standard price. Use coupon code AWESOMEGLOSS. Offer expires this Sunday. If you recently ordered one our our starter kits, don't worry. Over the past couple weeks the gloss canvas sample has been the new Crystalline Gloss Canvas. If you have an older sample, you likely won't be able to tell much if any difference since the texture level and brightness looks about the same.
Next I wanted to mention starting this week we will be extending our production and customer service hours to include weekend hours on Saturdays to handle the higher call and order volume.These weekend hours will be though December 19th, the Saturday before Christmas. We will have only limited shipping on the weekend but those in the San Antonio area that receive notifications their orders are available for pickup can pickup their prints between 10 AM and 3 PM. Our customer support team will also be available to answer phone calls and chat requests during those new Saturday hours.
On a related note, I wanted to encourage you not to wait until the last moment to place an order. We have added both more manpower as well as an additional canvas mounting station to better accommodate the orders we are now getting. However because we do not want to rush orders in sacrifice of quality, mounted prints, including stretched and mounted canvas now have a production time frame of 2-4 business days. For most orders, an extra day may not even be necessary but rather than speed orders through some of the quality checks we have in place we may need that extra day in some instances, especially on some of the larger orders which are very labor intensive.
If you have any questions, please feel free to contact our customer service department. They will be happy to answer any inquiries you have.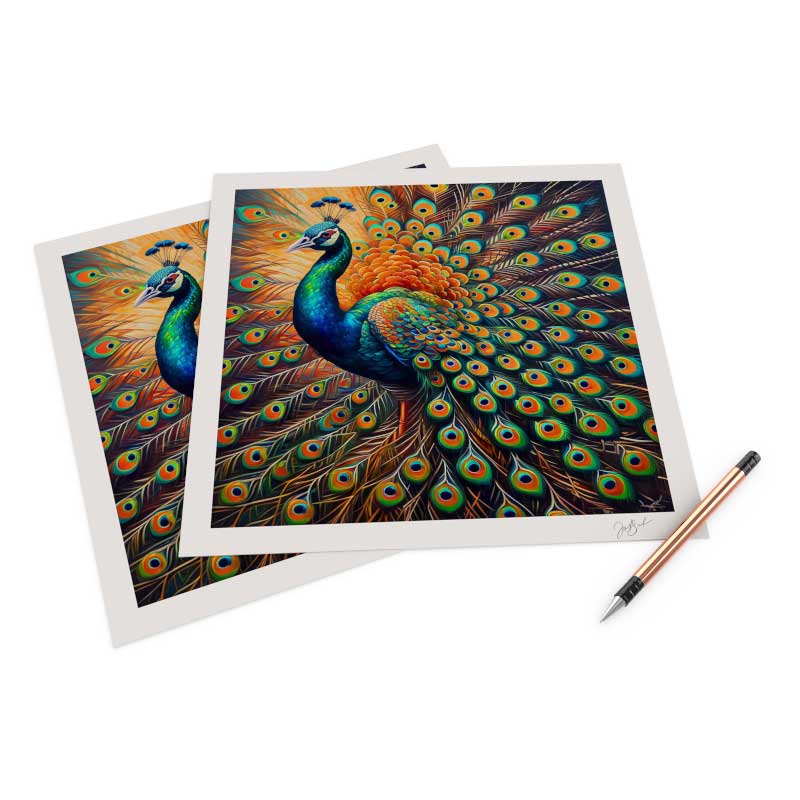 Giclee Printing at FinerWorks
One of the largest ranges of paper selections, while using the highest level of archival print technology allowing superior detail and color, you can create custom giclee prints of your artwork and photos.