Which Products Sell  Best?
If you're ready to start offering prints for sale, you're probably really excited about building a product list for your online store. Assuming you have already digitized your artwork and run a few test prints, it's time to start making some decisions about products and variants.
"I'm currently preparing to open an Etsy shop and I see that you are an approved Etsy manufacturer. I want to offer frames eventually so I'm researching many frames. I like that you offer so many.  I have a few questions before I start using your print and fulfillment.

I do collage art with paper strips and water colors and I'm wondering what paper would you recommend that sells the most? Should I also offer canvas options? Lastly, what are the best selling sizes?"
Great questions, but technically there are only two determining factors in whether or not specific products sell:. 1. The buyer loves the product, and 2. The buyer can afford it. Honestly, there really is no correct answer for any of these questions. Everyone's product list is a little different. And it should be. Your product options should reflect and enhance your artwork and your personal style. Some artists sell hundreds of 8×8's a week on Photo Rag paper, others are racking up the orders with framed archival canvas paper prints. There's another seller who sells a ton of unmounted canvas prints ranging in sizes 8×10 inches up to 20×30, and just as many stretched canvas prints.
Get Going – Try Some Products on for Size with our Print Builder!
With over 12 fine art paper options, 4 canvas types, 10 print styles, over a hundred different frame styles, there's a lot of variants to consider. Plus there's frame color, frame style, matting(?), matting color, matting size (or is it frame size?).
But, as they say, "All that glitters isn't gold".
You aren't going to impress buyers by offering a million options. If you want your work to stand out, you'll need to put your best artwork forward, and go for products that make your best art that much more enticing. As the artist, none is better equipped than you to make product decisions.
Our print builder works as a great tool for testing your artwork against different print/product types .You can view realistic and accurate examples of your image files as fine art prints, canvas prints, wood prints, gift products, specialty items, and even try on an assortment of frames and mats. Be mindful of size constraints if cropping is a concern,  and take special care not to over-calculate the print-size capability of your digital image files.
Don't Forget to Check the Price Tag Before You Go
And while you're using our print builder to try on products, start taking notes on product costs as you come across options you'd like to offer for your art prints.. You'll need this later when it's time to set prices in your store.*
*Finishing options, special shipping circumstances, and acrylic glass for frames are often over-looked during this process. Be mindful of any additional options that may need to be selected for proper pricing, and research shipping restrictions or requirements for such shipments as over-seas and over-sized shipments.
Sometimes Less is More
Creating a product line with unlimited product options may sound attractive at first, but step back for a moment and imagine yourself making such a purchase. How long would it take you to settle on a frame style? Color? Whether you want matting and if so what color that should be in… And imagine (now that your considering all of the customization possibilities) what you might do if you find yourself wanting a color that isn't offered? Would you settle for one that is? How would that affect your decision to buy? Would you set off to search for the perfect color somewhere else then?
Scenarios like the one above are more likely to prolong the checkout process than increase your profit. Too many choices can be over-whelming for a buyer and mentally exhausting. The more options you offer, the more decisions your buyer will need to make and the more decisions they need to make, the more they will question the purchase.
Offer a direct and simple product line for your buyers. Make their decision process a simple one, focusing on sensible options with straightforward illustrations that compliment your artwork. This will also serve to make the mock-up process less tedious.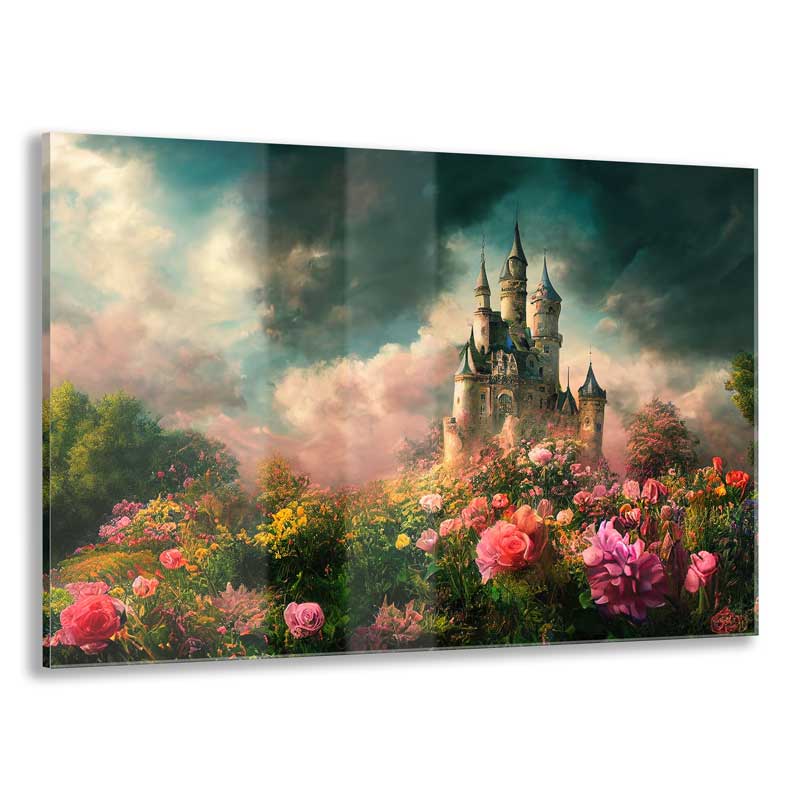 Order HD Face Mounted Acrylic Prints
Printed on high quality photo paper and face mounted to 1/4″ acrylic with polished edges. Choose between satin luster or metallic photo paper. Included is easy to install hanging hardware in the form of a French cleat.