One of the things that people appreciate the most about their images printed on canvas is the texture. The canvas texture alone can turn a typical photo into both a conversation piece and work of art. Art and photos printed onto canvas have even been mistaken for original paintings due to the organic feel and look. Since we offer a number of different styles ranging from artboard mounted prints to stretched and mounted prints we are frequently asked which canvas style should be chosen.
The first question I ask a person thinking of producing a canvas print is if they plan to hang the print framed or unframed. Most of the time people know this before hand with the most popular choice being an unframed canvas prints that is stretched and mounted then ready to hang. The canvas is stretched and mounted over wooden stretcher bars and secured with furniture grade staples in the back. Owners of these prints have no need to worry about trying to find a frame which will fit the canvas print. Many even opt for some sort of odd custom size since as soon as it arrives, they will have an awesome display ready to hang.
Because stretched canvas prints have such a pleasing look without a frame, you find stretched canvas prints everywhere. As an example, the other day I was walking in a mall. One store had a sale going on in which they advertised the sale on a canvas print which was positioned on an easel in front of the store. A few minutes later I walked into a book store and saw a handful of canvas prints in which the art was fashioned to look like book covers. Because these have been so popular in the retail industry for a few years now, we have actually developed a line of non-archival grade canvas prints exclusively for short term commercial displays in the retail industry.
If the customer wants to place the canvas print in a frame (perhaps they have an old frame lying around the house) I ask them what the frame insert depth is. This is called a "rabbet" which describes how deep is the opening in the back in which you insert your print. Since they probably want their frame to hang flush on the wall and not appear to extend out, like it is floating on the wall, I will suggest one of the mounting styles that fits best based on the thickness of their final print. Here is the thickness of the various mounting options with their thickness in inches so you can decide.
Canvas on Artboard: 1/10"
Canvas on Masonite: 1/8"
Canvas on Frame Ready Hard Mount: 1/4"
Canvas Stretched and Mounted (Thin Options): 3/4"
Canvas Stretched and Mounted (Thick Options): 1-1/2"
What About Larger Canvas Prints
I usually recommend to people printing larger canvas print to select one of the stretched and mounted canvas print options. A stretched canvas print is going to be more robust but lighter and should last longer. You may want to opt for the frame ready hard mount or masonite but these prints get fairly heavy once you start getting into your midsize ranges like a 16×20. While you can have canvas mounted on artboard up to 20×30, it is easier to accidentally bend or damage. Keep in mind your framing options might be a little more limited the thicker the print so again, check out the depth of where you insert the print to make sure it can accommodate a thicker print.
What About Huge Canvas Prints
For extremely large prints I always suggest a "thick" stretched canvas option. While we have used the "thin" mounting bars on sizes up to 40×60, they won't be as rigid at that size. We will use support braces but the canvas still will be looser and more subject to shadowing (impressions from the stretcher bars) since the thin bars are more likely to bend and bow the tighter you make the canvas.
What About Framing Custom Size Prints
One of the reasons people prefer FinerWorks is because we do all kinds of custom sizes. Unfortunately finding a ready-made-frame available in both the appropriate depth and dimensions can be more difficult. We have seen scenarios in which people have had frames they want to use but their artwork does not fit well in that size. If that could be a problem and you don't want to spend the money on a custom size frame, I usually recommend going the stretched and mounted route and hanging it unframed. In this case a thick stretched canvas in which the image wraps (we refer to it as a gallery wrap) usually looks great as long as the subjct matter does not wrap around. If so you can choose solid color sides and still have an impressive display. The reason you may want to forgo the frame is because having a custom size frame made to fit around your print can be a costly endeavor. Because of that you may want to consider having your image printed into a more mainstream size so you can use a less expensive ready-made-frame. In closing I have listed some of the most common ready-made-frame sizes below:
| | |
| --- | --- |
| 8" × 10" | 203 mm × 254 mm |
| 9" × 12" | 229 mm × 305 mm |
| 11" ×14" | 279 mm × 356 mm |
| 12" × 16" | 305 mm × 406 mm |
| 14" × 18" | 365 mm × 457 mm |
| 16" × 20" | 406 mm × 508 mm |
| 18" × 24" | 457 mm × 610 mm |
| 20" × 24" | 508 mm × 610 mm |
| 24" × 30" | 610 mm × 762 mm |
| 24" × 36" | 610 mm × 914 mm |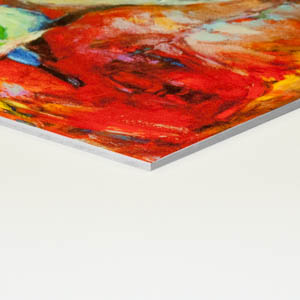 Order HD Chromaluxe® Metal Prints
Print your artwork or photography as custom-size metal prints. Using the dye-sublimation process, your image is fused to the surface of rigid aluminum panels. These provide a modern look when decorating your home or office. Choose from multiple metal surface options. Order it framed, with a float wall mounting or even with a tabletop easel back.