Some people are after a shimmering metallic look with their printed images. Prints with a metallic look are characterized by having almost a 3D quality to them. When the right-looking image is used, a metallic print will accentuate every detail, color, and tone.
Multiple Choices for a Metallic Print as Available
We have multiple options for a metallic-looking print: Metallic Canvas, Metallic Fine Art / Photo Paper, Kodak metallic paper, and of course actual metal prints. And soon there will be the Hahnemühle PhotoRag® Metallic which we will discuss in more detail below:
The metallic canvas is often overlooked. There is a little bit of give and take with it since the canvas texture does hinder it just a little. Still, it is not a bad choice. Easy to order, does not need to be framed to be hung, and a great choice for larger prints.
The standard metallic fine art paper is a nice choice. Branded as Moab Slickrock Metallic Pearl, it has a smooth surface, and light silver color base with a high gloss to make images really stand out. What is favored with this fine art paper is the ability to take advantage of the superior color accuracy this giclee photo quality has the ability to provide. Treat these prints with the utmost care when handling them until they are framed. Once they are framed they will last for generations due to their archival nature.
Next is the Kodak Endura Metallic. Not as heavyweight as the Slickrock, it is a good secondary choice where cost is more of an issue. Compared to the Slickrock, the gloss level is a bit higher, almost providing a wet look. The printing technology used to produce these prints is also exceptional but does not use inks. To some used to the heavier weight of the Slickrock, they may look a little cheap but they are more scratch resistant since the image sublimates from the paper utilizing a combination of chemicals and light.
Then of course there is an actual metal print on aluminum panels in which the image is provided by dyes that fuse to the surface. You can go with a metal that has a white gloss base but for a truly metallic look, you might want to opt for the silver finish. While we make a lot of prints on the silver matte, the silver gloss is our recommended choice since you get a high shine with the metal look. No matter the type of metal base, there is no mistaking you are printing on metal whereas, with canvas or any of the papers, you are merely simulating the effect of the metal.
Finally, let us talk about the Hahnemühle PhotoRag® Metallic as previously mentioned. We recently provided a preview of a new paper which we think will help to provide some of that shimmer and gleam people are after when it comes to a metallic print. With it, the fine art industry will see a new paper that elevates giclee and photo printing to a new level.
As the inventor and pioneer of genuine artistic papers, Hahnemühle fulfills the wish of many photographers by offering a paper made of 100% cotton with a metallic effect.
The evenly shimmering metallic look corresponds perfectly to the family of real artists' paper from the benchmarking Photo Rag® family but also makes PhotoRag® Metallic a unique paper in the fine art printing industry and you can be one of the first to have images printed on this paper!
Do All Images Look Good as a Metallic Print?
Not all images are going to be ideal and beneficial. The key to taking advantage of a metallic surface lies in how detailed the image is and how much of a range in tones the image contains. Commonly, an image with a lot of detail and a lot of tones will look best.
Also, the image MUST be sharp and clear. An image that is too pixelated, or too soft might in focus is better served as a regular canvas print or on matte paper like the regular Hahnemühle PhotoRag® 308 which we offer at FinerWorks.
In any metallic print, be careful of using images that are too dark. Because detailed images usually look best, if it is too dark may you might lose the advantage a metallic surface offers. Remember even if there is a lot of detail you see on your screen in a dark image unless you soft-proof first, there is the potential for those details in the darker areas to be lost or less visible when printed.
Displaying Your Print
How you display a print that is metallic plays a big role in its appearance. If you get your new print, take it out of the packaging but are in a low-lit room you might be underwhelmed. You think "okay I have a nice looking print" but feel it lacks that "Wow!" factor. It's once you take it into a room or even outside where the light is greater you will notice a difference. So, based on that, I recommend you display metallic prints where you have good lighting.
And if you plan to frame a paper print, it might be wise to forgo any glazing or glass since that has the potential to cover the vibrancy the print provides. If you do choose to glaze, be aware a reflection control glazing might darken the image a little but you will not have to worry about the glare of the glass overpowering the metallic look.
With metal prints and even metallic canvas, you don't have to worry about framing and placing behind glass. Those are meant to be hung with the printed surface fully exposed.
Ultimately it is your choice as to what will best serve its purpose if a metallic look is what you are after. You can always try different options to see what you will like but don't forget to be aware that just because one image does not work well, another image might look much better.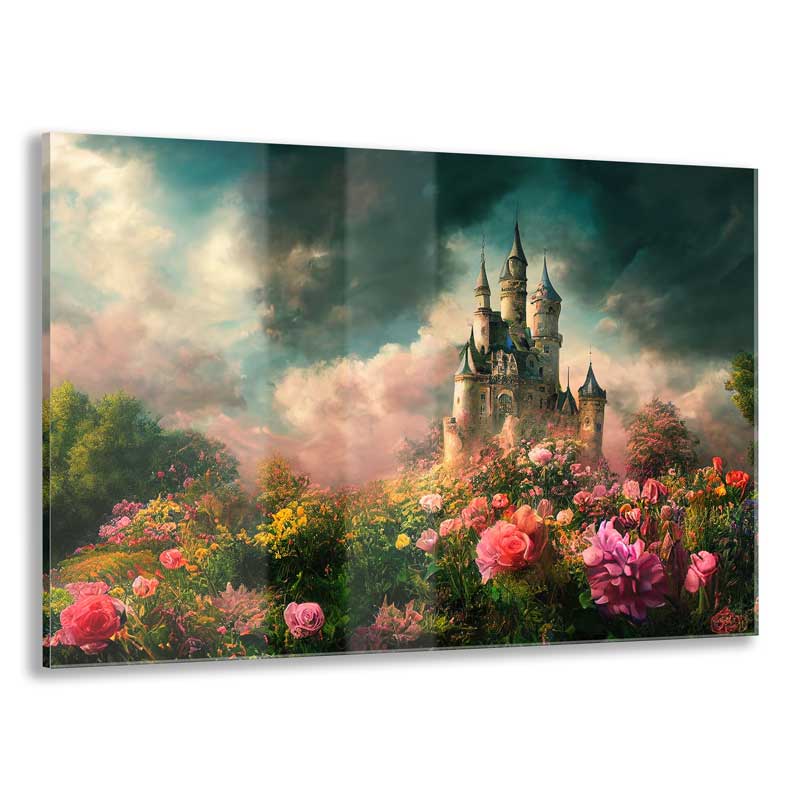 Order HD Face Mounted Acrylic Prints
Printed on high quality photo paper and face mounted to 1/4″ acrylic with polished edges. Choose between satin luster or metallic photo paper. Included is easy to install hanging hardware in the form of a French cleat.