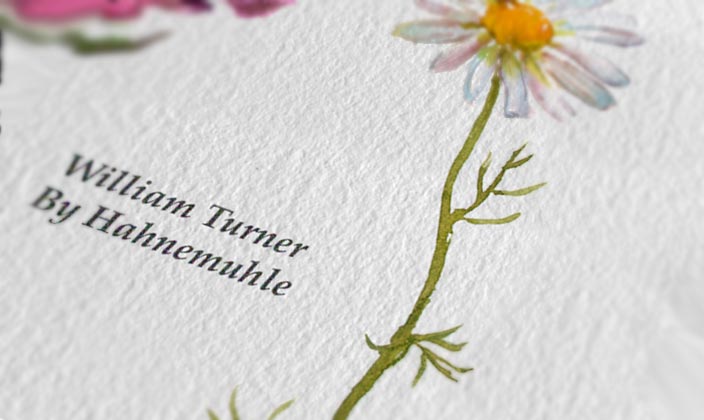 The William Turner by Hahnemuhle is one of the most popular papers used in the Giclee printing industry. Texture wise this fits nicely between our Fine Art Paper (Somerset Velvet) and our Premium giclee. This is a 310g natural white mould made natural line paper with 100% rag content making it highly archival. It has a slight coarse texture which actually serves to enhance the look of art and photo prints. Over the years customers have been asking to start offering this paper so here it is. Starting today, not only will be we offering it but we will have select sizes on sale through the rest of this week. Give it a try because I think you will love this paper.
Extended Through Sunday May 13, 2015
borderless, 1/2 or 1 inch bordered prints unmounted
8×10: $5.95
11×14: $8.95
12×18: $12.95
16×20: $18.95
Select from our line of Fine Art Papers. Sale price will show up when you add it to your cart.
The Hahnemühle Digital FineArt Collection comprises true artist papers with varying grammage and surface structures as well as canvases for art reproductions, photographs and digital art.
Hahnemühle's expertise as an artist paper manufacturer, invented the exclusive papers for giclee prints and distribute them as the worldwide market leader. The surface variety, the impressive feel of our mould-made and cotton paper as well as their conservational properties have won international TIPA, BIPP and American Photo awards.
The premium coating on the original artist papers preserves their haptic exclusiveness and guarantees long-lasting true-to-detail prints that meet the requirements of museums and galleries.
All the Hahnemühle giclee media allow for fine art prints featuring an extensive color gamut, best contrast and finest nuances for impressive pictures. The close cooperation with our Canon printers ensures the compatibility for some of the most detailed and accurate prints possible.
Order HD Chromaluxe® Metal Prints
Print your artwork or photography as custom-size metal prints. Using the dye-sublimation process, your image is fused to the surface of rigid aluminum panels. These provide a modern look when decorating your home or office. Choose from multiple metal surface options. Order it framed, with a float wall mounting or even with a tabletop easel back.