Thanks to a great suggestion from one of our artists who uses us on a regular basis to have prints dropshipped to her customers I am happy to announce a couple new shipping options. We wanted to help people like her who ship a lot of 16×20 prints avoid having to select UPS Ground. While I am overall happy with UPS Ground it costs $14.95 versus $9.95, won't allow shipping to PO Boxes in most cases and in many cases has a longer transit time without Saturday delivery. Rather than raising the rates for Priority Mail and Express mail we setup offer an upgraded version to the two called "Priority Mail Large" and "Express Mail Large". They are a few dollargs move but will these "Large" versions let you ship prints flat up to 16×20. In addition it can be a solution to those that want their paper prints shipped in a little more robust packaging than the normal flat mailers.
If you have ordered from us you may be aware that we have a tiered flat rate shipping structure.  We set this up when our customers started to demand their paper prints be shipped flat rather than rolled in a tube. The tiered flat rate method basically gives you a choice of shipping options based on the overall size of the largest print within an order which includes any border options you selected. We call that the "sheet size" or sometimes the "cut size".
For instance, if the largest print in you order was an 11×14 print on one of our art papers and you selected a 1 inch border your printed image was printed within that 11×14 inch area. However the sheet size was approximately 13×16 (remember that a one inch border adds a total of two extra inches rather than 1 inch since there is 1 inch on every side).
We determined how this tiered structure would work based on the type of packaging the largest print within an order would fit in. Up until now if the largest print had an overall sheet size of 16×20 then the only option you would have had in the past was UPS Ground shipping since it exceeded the dimensions we could have safely shipped in our largest Priority/Express Mail mailers.
This could be a bit frustrating to all since the only option was to ship it in one of our 18×24 x5 inch brown boxes which are usually for UPS Ground shipments. While these boxes did a great job of protecting the prints, many of our frequent drop shippers prefer to have their orders shipped Priority Mail since it gets to most placed in the U.S. faster than UPS Ground.
Our dilemma was how do we offer Priority Mail for those prints within a 16×20 inch range. The 18x24x5 has what the post office calls "dimensional weight" which just means they charge extra based on the size of the box and not the weight. Even with the volume we ship, the cost for shipping a box that size was ridiculously high costing us between $20 or more in postage.  The solution was to add a new 18x24x1 inch corrugated box to our lineup of shipping supplies. It does not have the dimensional weight issue the 18x24x5 inch box has. This makes shipping some of those 16x20s feasible and more affordable.
Lastly, some of our customers have expressed concern that the Post Office is little rough with the regular flat mailers. While only a very small percentage of packages get damaged by the Post Office to the extend the prints are also damaged, it is enough for us to feel it is time to provide our customers another alternative if they want it. The new 18x24x1 inch box should handle the stress of shipping even better. Even though we go above and beyond with the regular flat mailers by sandwiching your prints between two corrugated sheets, the 18x24x1 inch boxes should withstand the stress of shipping better since they themselves are made of 200lb corrugated cardboard. So if you have had a bad experience in which your prints arrived in a bent package the "Priority Mail Large" option might make you feel more comfortable.
I have not talked much about "Express Mail Large" but it is essentially the same thing but with a quicker transit time. We will be experimenting with the overall costs of both options and will try to bring it down if we can. Right now "Priority Mail Large" will run $12.95 while the "Express Mail Large" option will be $35.95.  You can order as many prints as you want so even if you order 100 different prints but all your prints can fit within a "Large" option then you only pay that flat rate.
If you have any questions on the maximum sheet size for your paper prints checkout our shipping page and review the shipping table under "Canvas and Art Papers". It will specify the maximum dimensions of your sheet size. If you have any questions or even suggestions feel free to contact us via our contact form on our contact page.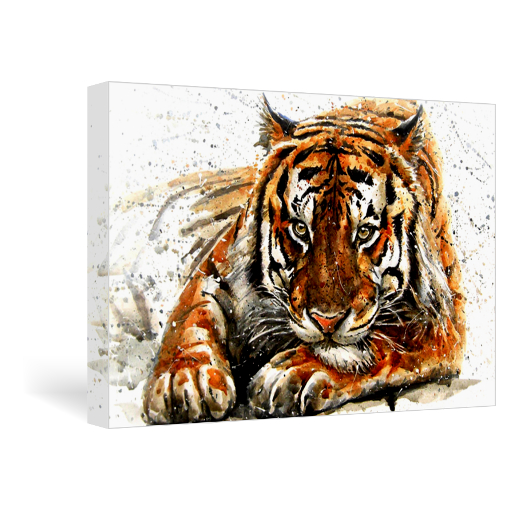 Order Giclee Printing on Canvas
Printed using some of the highest archival standards in the industry, your photos or artwork will last for decades to come.