What are your plans for 2014. With the entrance into January many people like to start their new year with resolutions. For artists I think it is a good time to set goals rather than resolutions. I like the term goals because it implies you have set a finish line that must be crossed to complete. And in many cases you might have a larger goal in mind that may consists of smaller goals. At FinerWorks we always set goals thought the year but January is especially important. The final months of the year are so busy that implementing new solutions seamlessly can be challenging but with the holiday season behind us we have a chance to evaluate ourselves and come up with ideas with the idea of becoming more capable in meeting our customers' expectations. So what are some ideas that we can offer artists who want to set new goals for themselves? I will name a few that you can either take with you or expand on yourself.
Goal 1. Education in your craft. Perhaps it consists of becoming better at mixing paints or more knowledgeable when it comes to working with your camera's settings. Those are just some quick examples but you get the idea. Each one can have their own subset goals. For instance when looking at paint mixing you might be generally happy with your abilities but want to study how to achieve more natural looking flesh tones in your pigments. For the photographer it might simply be understanding how your settings effect white balance, focus or exposure. I have a friend who runs a photography school with many years of camera work under his belt as a professional photographer. Many of his students have gone on to become professional photographers themselves under his mentoring. But even though he teaches classes from beginning to advanced he is always attending seminars and workshops himself so he can also be a better photographer. I know some in the visual arts, are set in their ways and have no interest in changing. If that applies to you then perhaps this goal if not for you but before you ignore it ask yourself do you know everything there is about how to create and capture the images you do? The desire to better ourselves and improve what we do is a key component of who we are. Many times when you embrace this you find new enthusiasm to learn. On example of this is how more than once I have talked to artists who are much more talented and capable then I am but I told them that you can print a photo or drawing on canvas as a reference then can paint over it. If they had not heard of this it almost always leads to them saying "why did I not think of that?".
Goal 2. Become more knowledgeable in the field of digital imagery. Sub goals might include understanding the difference different file formats and color settings, how to modify colors of a digital file with a software program or ways get a more accurate digital copy of your artwork if you are photographing it. I have found when people try to tackle these they discover ways they can make their prints better. You might be the type to say I don't have time for that or I am too old or simply I am not familiar enough with computers. Well in that case make time or be open to learning new things. I am always delighted to see when regular customers who had little computer knowledge decide to take the steps to understand some of the basics of working with digital images. It's not that difficult and in every case I can think of they went from producing prints which started out "okay" to being "great".
Goal 3. Spend more time on your art. I know this can be easier said than done but are you taking the time you had always intended to paint a new picture or take more photographs? If you are in the business of making money with your art sometimes we get overwhelmed with the details of running a business that we lose sight of why we got into the art in the first place. I am a big believer in artists who have a business centered around their art not shirking their duties when it comes to making their business a prosper. But I am also a big believer that if you forget that you are an artist you might lose perspective of how important your art is to you and your fans. Creative people need an outlet for their creativity and if you care about repeat business from some of your customers you need to give them access to new works. Years ago I operated an inspirational gallery and desktop wallpaper website unrelated to FinerWorks. It appealed to lots of people across most demographics. As long at the site was turning out new imagery people kept coming back. If I chose to take a hiatus, things such as sales and general interest would wane. I learned that in the creative arts field people want new content and new content helps prevent stagnation.
So these are my ideas which I hope will put you into the proper frame of mind when it comes to setting up goals. You may not meet every goal you set out to or within the time frame you had hoped for. You might find they open the door to set new goals. Just try to keep your long term goals in mind and use your short term goals as stepping stones. It's a journey which you and your art will appreciate in the end.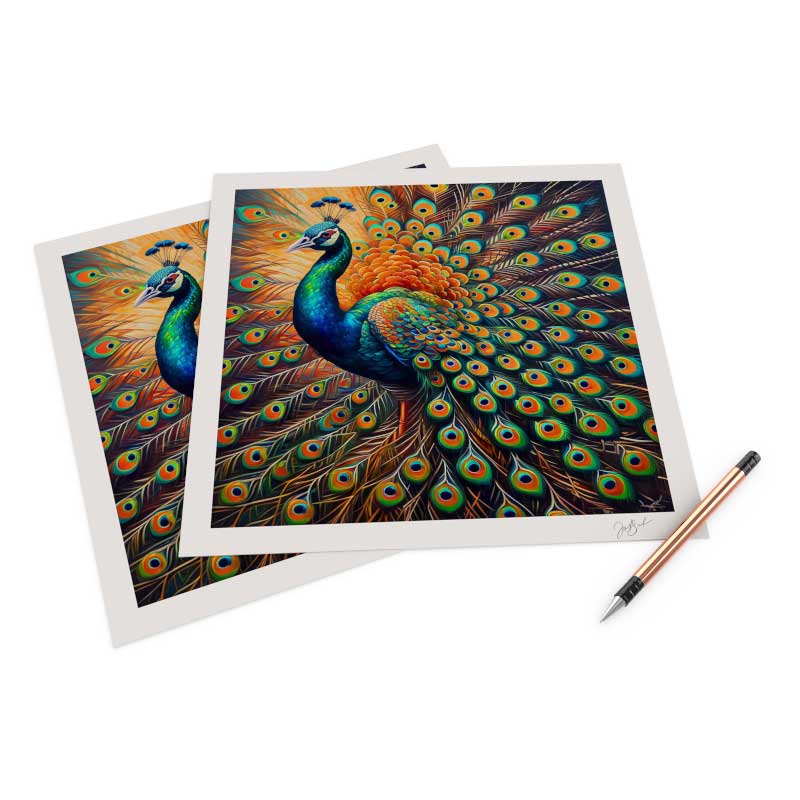 Giclee Printing at FinerWorks
One of the largest ranges of paper selections, while using the highest level of archival print technology allowing superior detail and color, you can create custom giclee prints of your artwork and photos.