A while back a young lady came to us because she was concerned by some prints another company had produced for her. She initially loved the prints but discovered that after a few years the colors had turned a chalky white. Even your best quality prints can have bad things happen to them when exposed to the wrong environmental conditions but turning a chalky white was not something you normally see so the only possibility was the materials such as inks and/or paper was the cause for concern. I knew this company she used, and although great, they are not a fine art printing company.. And that got me thinking about some of the questions this young lady should have asked before choosing this company or any company to produce prints of her artwork.
1. What brand of inks and printers are used?
Just claiming that archival inks are used is not enough either. It is important that the printer is using archival grade inks provided by the company that manufacturers the printers. We occasionally have vendors approach us from as far away as China trying to get us to switch to more affordable third party inks which would work in our equipment. These companies also claim them to be archival but are not engineered by the same companies who manufacture the printers they are used on. That is not to say third party inks are going to be bad, but and it is even possible that these come from the same factory the brand inks do but even the printing company won't know that for sure. Plus, there is no guarantee that the same quality control which the big companies stake their reputation on will be present with cheaper third party inks. At FinerWorks we strictly use Canon Lucia Inks on our Canon printers and Epson inks for any Epson printers. Any other company that uses these or other brand printers must be doing the same with their brands: Epson printers = Epson Inks, HP Printers = HP Inks, and Canon Printers = Canon Inks. While fading can occur with almost any type of print if poorly cared for and exposed to improper environmental conditions, you can be more at risk when using a company that does not stick with your named brand inks.
2. Are the inks aqueous pigment based?
If they say they use solvent inks because they are more scratch resistant be aware that while the solvent based prints will likely withstand the test of time, you might be unsatisfied with the lower tonal range. We use solvent inks on our economy level artisan canvas and posters. These prints will last a lifetime and are great for general decor but they have nowhere near the color capabilities we get on our fine art papers and our matte and gloss canvas which are printed with aqueous pigmented inks. If the company you are questioning says they use dye based inks, then turn away. Today's standards for fine art prints are the aqueous pigmented inks. These are also the inks photographers are likely to be using if they produce their own inkjet prints at home. Today most photographers I know feel that the color gamut on these inks exceed those you can get with a traditional photo print. Interestingly that is still debated in photography circles but not at the rate as before. Unquestionably until recently an aqueous inkjet print could not hold the water (pun intended) of a traditional C print but today more and more photographers favoring moving to inkjet. And up until recent years' dye based inks were widely preferred over pigmented inks for inkjet photo printing as well as art based reproductions since they were believed to offer a wider color range. The downside was dye based inks were generally not considered to be as archival and were expected to fade. For photo prints I feel that inkjet aqueous pigmented based prints still have some areas to improve on before it totally buries traditional photo printing but for fine art prints there is nothing better.
3. How old are the printers?
This may seem like an odd question to ask but don't feel as if you are nitpicking or asking for any trade secrets. As a matter of fact, if the company seems even a little hesitant to tell you then go elsewhere. This could mean they don't actually produce the prints in-house so might not know. But it could also mean they are using older outdated equipment. Older printers are not necessarily bad. Just consider giving them a second thought if the printers are too old. Using a company that holds on to their printers too long may mean that you are not getting the most out of your prints. Use a company that uses printers which are no more than two printer generations old. Find out the models they use and do a little research online to see what the latest version is and how old is the version they have. As an example let's say a company is using a printer called "printer model 4". But "printer model 8" is available from another company, unless you don't have much of a choice go with the company that uses the newer printer models. There usually is not much difference from one generation to the next but once you start looking at printers more than 3 versions old we are easily talking about 5 or more years of technology improvements. What this means is your prints are less likely to achieve the color range you might be looking for and be less archival due to the possibility of inferior inks. There is also the greater chance that hardware failures within the printer itself might lead to poorer print quality than what normally would have been achieved.
4. Are the papers acid free and made from cotton or alpha-cellulose?
These ingredients are going to be the base materials for archival level fine art papers. Since there are many different paper manufacturers that provide papers for the type of printers being used, it is easy even for a printing company to get overwhelmed with the different options they have. I spoke to the CEO of a company that did more commercial printing but was wanting to delve into producing giclee prints on various fine art papers. He showed me some of the prints they were producing to get my opinion. The prints looked great but when I asked him what brand of paper they were using, he told me it was some inexpensive off brand provided by one of his suppliers that usually provides the vinyl and other media for interior signage they use int commercial printing. He had no idea if the paper was archival or even what the paper was made of. Nor did he seem concerned. The reason why he had selected that paper was it had a nice texture, it was cheap and always in stock with his vendor. I don't fault him for his lack of interest in knowing how archival the print was or even attempting to provide something that will last. Many people in the commercial printing industry are used to producing posters and prints that will hang up in stores and businesses and not in a gallery or in the home. They are not expecting their prints to last. Later on he did see the light when more artists sought him out and inquired about the paper. He also told me he switched to a similar looking name brand paper because of poor quality control at the manufacturing level with the cheap version. The lesson to be learned is make sure you check with the printing company to see if they are using papers with a good reputation in the the photo and fine art printing industry. To be sure you are getting good quality papers for your prints, look for fine art paper companies using reputable brands we use such as Hahnemuehle, Breathing Color, Lexjet and Moab. There is also Ilford, Canson which are quite popular in photography circles. You can also use papers branded by Epson, Canon or HP which are likely going to be rebranded versions of papers from the above paper companies.
5. Do the papers have low or zero OBAs?
OBA stands for Optical Brightening Agent which is what gives papers their whiteness. Admittedly these have evolved and are not necessary a bad thing anymore but I still prefer papers with papers with lower OBA levels. Originally OBAs were bad because as time passed these OBAs would break down which would lead to a yellowing of the prints. Now days this is not so much the case but if you are offered the option for an OBA or lower OBA content level paper, and on a paper provided by one of the leading names mentioned above, you can be fairly confident that the print will be on a good quality paper. At FinerWorks some of our papers are OBA free while others use OBAs that have been formulated to not break down like they once did. All our fine art papers are considered archival. So too are our gloss and matte canvas with zero OBAs. This means your prints won't yellow over time. Wilhelm Research has done a number of studies which have shown even many of the popular papers with OBAs will survive into the next century without any problem when properly stored or cared for.
6. Are proper color management protocols followed when printing?
There is more to getting a good quality print than just what type of inks and papers are used. Also the companies' color management workflow is important. Are they using color profiles and software such as a professional RIP (Raster Image Processor) to print the files. Are they using ICC or ICM profiles specific to the combination of paper, printer and inks? Just simply asking these questions may be enough to make the printer think you know what you are talking about even if you don't. If the response is anything but yes or what do you mean, then it may be possible that you are dealing with a printing company that does not use proper printing and color management methods. Another local printing company approached us to assist with some poster printing. Since they used the same wide format printers we use, I wanted to make sure we got the same results consistent with theirs. But when I asked about the process they used I was surprised to find out that they were nowhere near following proper color management methods. Fortunately, with a little instruction from our end, we were able to help them get their print technician up to speed so they could get the poster prints looking like they should.
Still have questions about choosing giclee printers? Just reach out to us by phone or Contact Us Now. Our customer service team is the best. Not only are they artists with BA degrees in visual arts but they have extensive experience in the production department. They will be happy to provide you help in making sure your prints turn out great.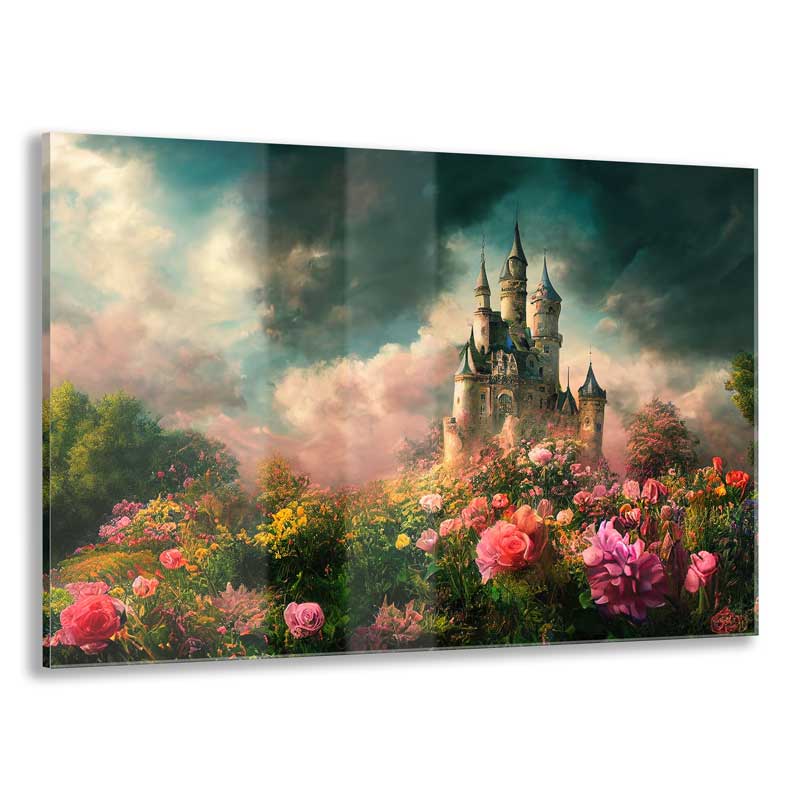 Order HD Face Mounted Acrylic Prints
Printed on high quality photo paper and face mounted to 1/4″ acrylic with polished edges. Choose between satin luster or metallic photo paper. Included is easy to install hanging hardware in the form of a French cleat.