Ever since FinerWorks started to offer Kodak lab prints we started to receive inquiries about the choices we offer for photographers. The question asked is should they now start to order prints produced on our our line of Kodak papers or continue to order on the line of specialty papers such as Fine Art Paper, Archival Matte Paper, Satin Luster Paper, Metallic Paper. If were not aware, many photographers have used us for more than just canvas prints but also for enlargements printed on those papers. These prints are produced on the same printers we print canvas with which are large format Epson and Canon inkjet printers. Many simply prefer these prints since they are use to the stunnign quality those name brand printers produce plus these professional printers let us easily offer any custom size starting at 8×8 up to 40×60 or even larger. The real magic is the appearance of the prints, especially with the larger prints and a high density paper like the Satin Luster or Metallic. Your blues, reds, greens, yellows and blacks look so rich and vibrant and you see details that you otherwise might not have caught when looking at the image on your computer screen. In general you can't get as rich a tonal range in any other type of print anymore.That was not always the case especially when I compare them to prints I made for myself on a printer I had at home back in the 1990s or your typical lab print.
Back then when I first began to print my own artwork I started off with a desktop inkjet printer and some glossy inkjet photo paper I would purchase at a nearby computer supply store. It started when a co-worker around that time telling me how on the side he was taking photos his son's little league teammates and selling them to other parents. He showed me one of the prints he made with a photo-quality inkjet printer he had recently purchased. Right away I was dazzled by the fact that the inkjet printers at the time could print photo quality images that looked almost as good as what you could get at a photo lab. I was just getting into computer graphics as a hobby so the thought of being able to make colorful and sharp looking prints of my work was too hard to resist. So as soon as I could afford it I purchased a similar printer. The prints I made back then still had a long way to go and knowing what I do now I would be embarrassed to offer a print like that for sale again. But that was over a decade ago and inkjet technology was in its infancy stage compared to today. Since then engineers have been able to develop not only more robust inks with archival qualities but also archival grade media types. Today some inkjet prints can have an archival rating of over 200 years when using the right paper and inks. I actually find it fascinating to see the same basic technology of spraying droplets of ink on paper results as remained the same but the results are a more vivid and sharper print then those even printed at the lab on Fuji Crystal or Kodak Endura papers.
Does this mean inkjet is the new standard? I guess it comes down to who you ask. Well it depends on who you ask. Based upon my experience in talking to photographers it depends on the type of photographer. I see more and more portrait photographers moving toward inkjet since it is easy for them to control the quality of the print from their studio without sacrificing quality. A lot of them are using Epson and Canon inkjet printers and will only need to come to us when they need a print in a larger size then they can do themselves or if they need a photo printed on canvas.
On the other hand, event photographers do tend to prefer the wet process. Not so much due to quality of the prints but due to cost. The regular lab print on Kodak or Fuji paper is still more affordable to produce therefore the event photographers printing cost will usually be less when they go this route.
Fine art photographers will be in either category. There are many fine art photographers, especially black and white photographers which prefer a more traditional photo print since they feel it can offer a higher range of black and white in their prints. However I think this feeling is starting to change as we see companies like Epson target these photographers and improve their technology. Other fine art photographers are also starting to go toward inkjet. Sometimes it is due to the wider range of media or sometimes they just feel the colors and tones are more vibrant. In the end I think inkjet will become dominant for this group as well.
In my opinion inkjet still has some areas I would like to see improved which I think will happen. Inkjet prints do tend to be more expensive to produce and the print needs to be handled with more care. For now I think for your best work you want to hang up for display, go the inkjet route due to the overall appearance but for those family snapshots I think the Kodak paper print done at the lab still makes more sense.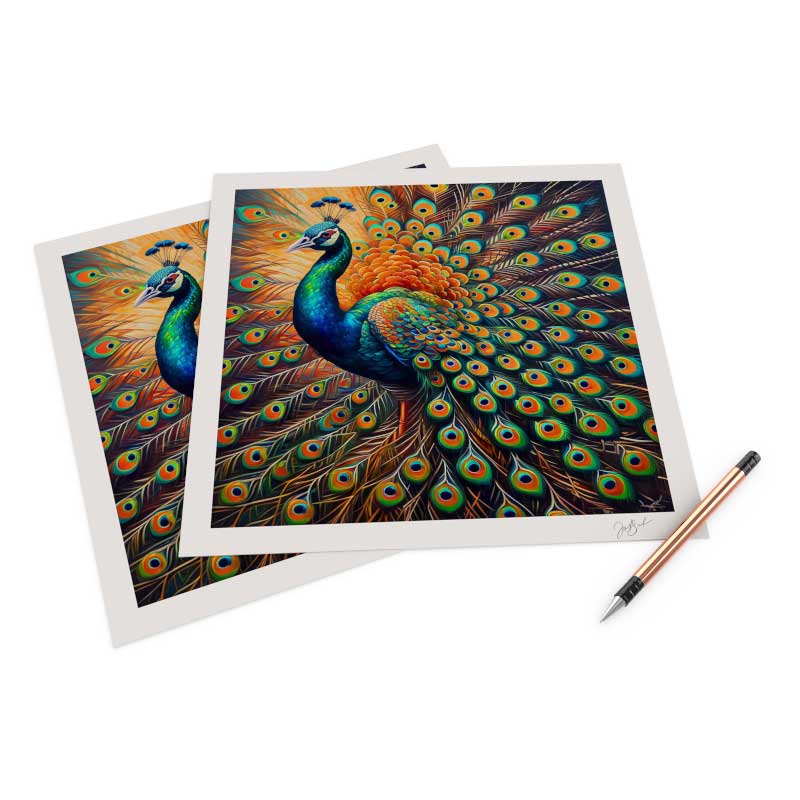 Giclee Printing at FinerWorks
One of the largest ranges of paper selections, while using the highest level of archival print technology allowing superior detail and color, you can create custom giclee prints of your artwork and photos.