If you are printing your fine art and photos on metal, you are likely having your prints done on Chromaluxe® aluminum panels since they are the most widely used type of metal offered by print labs that specialize in that kind of printing. There are some less popular alternatives to these panels, but they are limited and usually not as good a quality.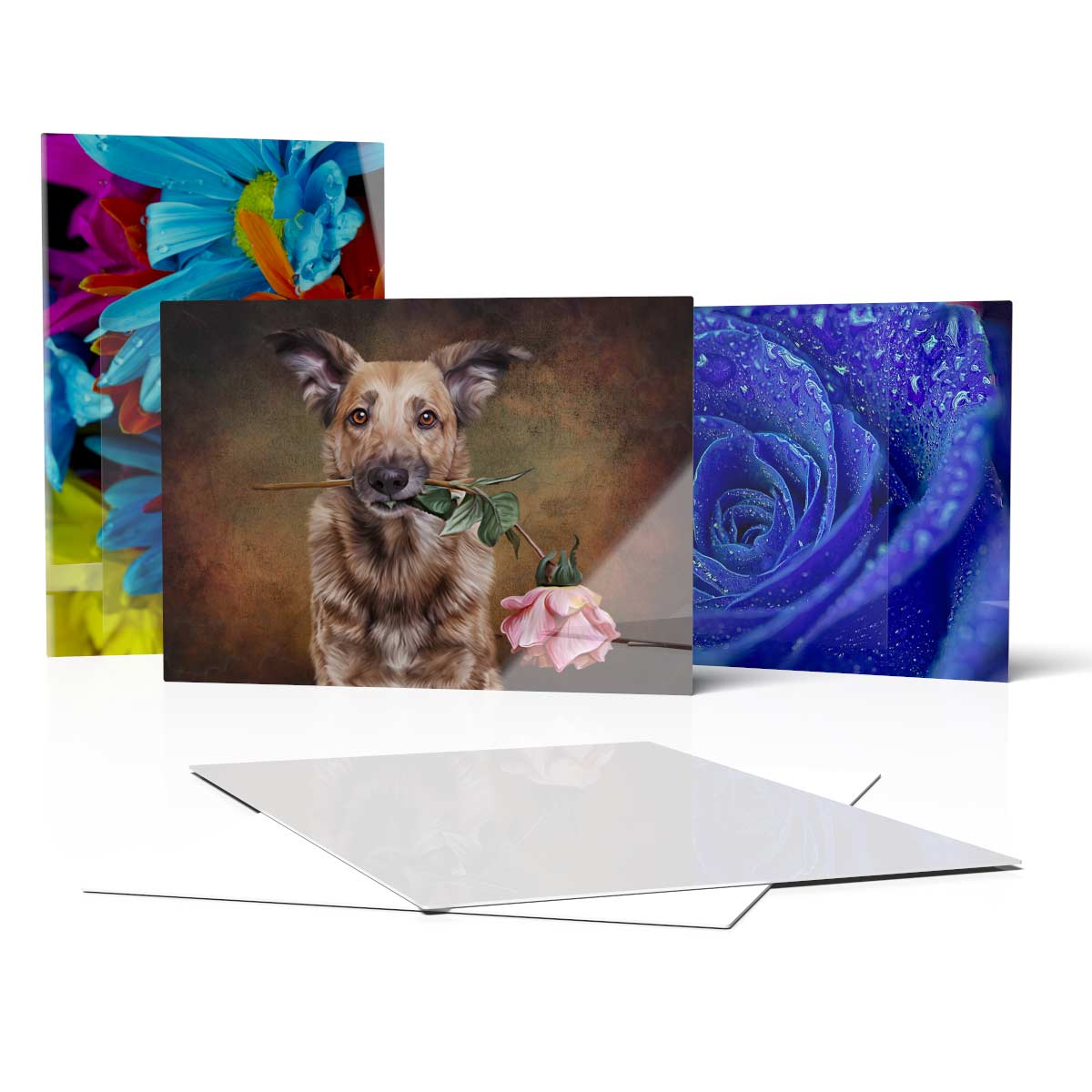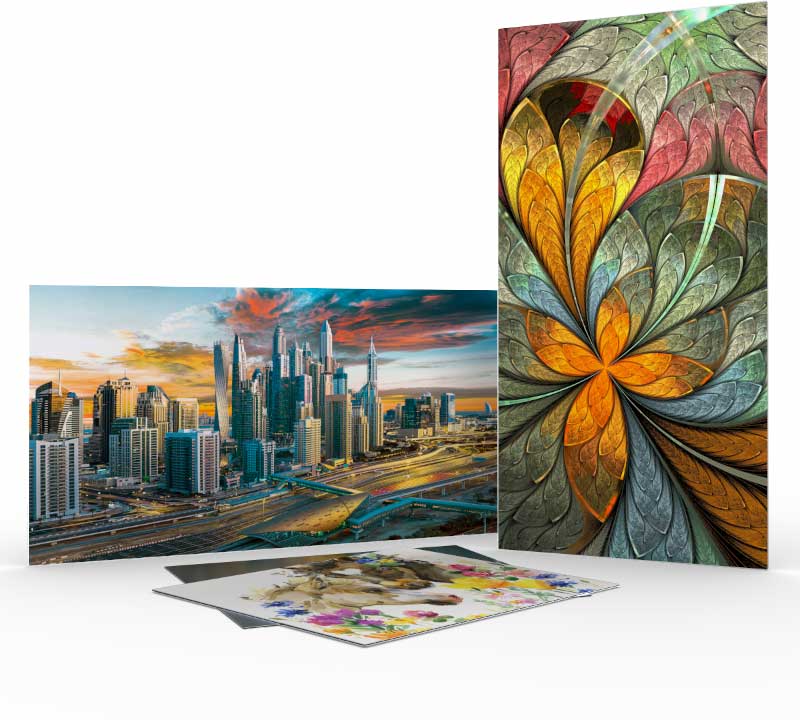 Another type of aluminum material composite you might have heard of is Dibond®. This too is extremely popular in the print world, but it is typically used as an acid-free mounting board option like you find at FinerWorks. But what about printing on it?
Printing on it direct had usually been delegated to large national photo labs, commercial printers or companies which specialize large décor displays. Only recently as a trade printer for many and what we felt was a growing demand, did turn to producing actual Dibond® prints in which an image is printed on it.
Right away, when people heard we were considering offer Dibond® [rints, questions came up as to what the difference was between a Chromaluxe® metal print and a Dibond® print. We knew there might be some confusion since they seem similar. But the truth is, they are quite different.
If you were to look at them side by side, you would see both have and aluminum surface but that is where the similarities really end. To answer which is better, it really depends on what you think will make the most sense for your display. To help you, it is necessary to contrast the two options so you can make the best choice.
The Panels
Chromaluxe® aluminum panels are thinner. They come from 0.045" thick solid aluminum which makes them a little less then half the thickness of the Dibond® panels we offer. But because they are solid aluminum, they will weigh about the same as the Dibond®. These panels are pretreated by the manufacturer to properly receive the impression of the image via a polymer coating on one side. Occasionally hard to detect dimples or other defects occur that are. Some chipping away of this enamel is common on the edges. Producing these requires a steady hand on the part of the technician. Overall, they have a higher rate of do-overs on the part of the color lab due to imperfections that show up in the panel after the image is applied. The panels are available in either a white for the widest range of colors or a clear (silver) surface to allow the aluminum to show through in place of the whites.
Dibond® panels are an aluminum composite. They consist of two thin outer sheets of aluminum with a polyethylene (plastic) core. The ones we use are 1/8" thick and more rigid than the alternative. Like the Chromaluxe® they too have to be properly prepared to receive the image. In this case, they are digitally primed which means they are coated with a solution which helps hold the image. They are less likely to have defects in the surface which would affect the quality of the print and chipping away of the image is also less likely. They too are available in either a white or clear surface. The clear surface option is more of a brushed aluminum so looks more like raw metal.
Printing
Chromaluxe® panels use a dye-sublimation process to get the image onto the surface. First an image is printed onto a transfer paper using dye based inks. The transfer is secured to the metal panel then placed in a heat press. It is the combination of heat, pressure and time which causes the dyes on the transfer paper to turn into a gaseous state which in turn allows it to "bake" into the enamel surface. The end result is the image appears to be part of the surface. White gloss is the most popular providing the highest color range.
Dibond® panels must be laid out on a flat bed printer. The printer uses commercial grade inkjet like technology to apply UV inks directly to the surface. An LED UV light source instantly cures the inks solidifying them. A neat thing about these due to the printer itself, additional effects can be applied such printing white in isolated areas on the clear silver version. Printing raised text or even applying an underlying texture. The printer can also apply a matte, gloss or even semi-gloss clear coat on top of the image.
Print Color
When color accuracy is most important, the Chromaluxe® metal prints are usually the preferred option. This means a wider range of tones ranging from lights to darks. This is a result of the printing process and not so much due to the panels themselves. The clear silver options allow users to even achieve metallic looking tones like gold, copper or bronze.
Color Consistency
Dibond® prints will be the clear winner in situations where you are trying to achieve the exact same look from print to print. Chromaluxe® panels when printing on the ones with the white base are notorious for having varying degrees in their level of white possibly due to inconsistencies in their manufacturing. We don't exactly know why but it does lead to minor color level alterations that is sometimes noticeable.
Print Resolution
Dibond® panels will appear crisper and charper but you may see that color gradients may look grainier in some instances on Dibond®. You can still see some graininess in images printed to Chromaluxe® panels but generally less.
Durability
The Chromaluxe® panels tend to be slightly more scratch resistant but are more likely to bend and  or damaged more easily if accidentally knocked against a hard surface. For high traffic or outdoor displays, the Dibond® prints are better suited since they will fade less over time.
Print Size
The Chromaluxe® metal prints maximum size with us is 30x40". This is partially due to a limitation on the maximum size we feed into the heat press. While some companies can produce larger sizes, it tends to be cost prohibitive to ship since they bend and damage so easily during shipment. Dibond® can be printed larger. We offer them up to 48×60 but technically if we wanted to we could print on a full 4x8' panel. Since they are more durable during shipping our cost replace them if they do get damaged is easier to bear.
Cost
Hands down the Dibond® prints will be the winner since the base materials and production process is less expensive. Chromaluxe® has a near monopoly on dye-sublimation metal prints so they are able to  charge more for their panels but Dibond® has quite a few competitors in the industry which produce the the exact same type of panels. Since the costs on the Dibond® prints are better for a company like us, we have a lot more room to pass this savings onto the end user.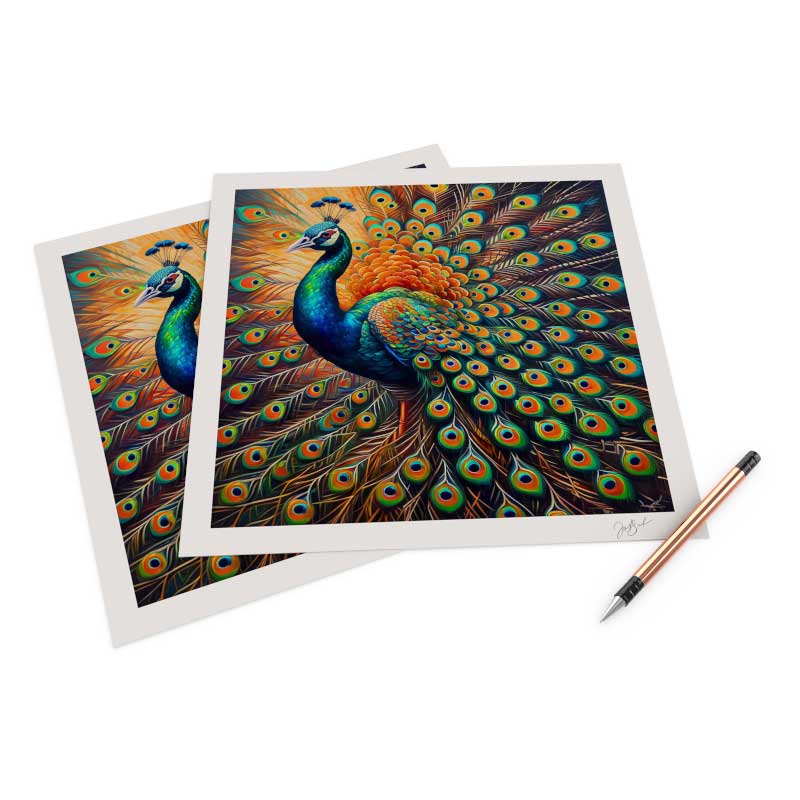 Giclee Printing at FinerWorks
One of the largest ranges of paper selections, while using the highest level of archival print technology allowing superior detail and color, you can create custom giclee prints of your artwork and photos.