Printing is generally the same thing in the age of digital prints no matter if it is artwork or photographs. It all comes down to image pixels being turned into an image which is printed on a surface, usually paper. The properties of the paper are where many photographers, especially newer ones, have questions if they want something that best shows their work. To help them choose I ask photographers to look at three main characteristics of a paper which have an effect on how their image is printed.
Before we proceed any further, in this case I will be referring to papers used in giclee printing, which seems to be the growing preference for fine art photographers we meet. While the Kodak papers are great, may photographers want a wider range of options and sometimes output capabilities that the giclee printing now can offer.
The first characteristic I would look at is the glossy level. Many photographers gravitate to a glossy or luster stock. We have two fine art papers that meet this requirement: Hahnemuehle Photo Gloss Baryta and the Moab Satin Luster. Both were really engineered with the photographer in mind although there is no reason an artist could not do art reproductions on them. But is glossy always the best choice? For certain image, even ones meant to be put on display they give the image lots of "pop" as photographers like to call it. They both can give the appearance of deeper darks and brighter lights. The only problem is they can show glare. As a result we see many other fine art photographers prefer a non-glossy surface so no shine interferes with viewing the image. If this is a concern for you, some of our professional Kodak photo papers may not be the best choice. Instead you will want to look at a paper with a prominent matte surface. With the right matte paper, your photos will look just as good, especially when framed. In this case, my recommended choice is the smooth surfaced, Hahnemuehle Photo Rag.
The next characteristic I think photographers look at is the texture. With fine art / giclee printing there are a lot more options when it comes to texture. I love how photographers are intrigued by the idea of using texture in their prints. But before you choose the most textured paper you can find, decide if it hurts or harm the appearance of the image. If it is a relatively smaller print with a lot of details (say 11×14 or smaller), I recommend limiting the texture. Dependent on the pattern and depth of the embossing, you have the potential to have details harder to distinguish. For larger prints, the texture will likely be fine. Dependent on the size of a larger print, a textured paper might not even be noticeable to the viewer of the print if they must stand back too far.  There also will be times when the texture can help and even improve a photo's perception. An image that is slightly out of focus or low resolution might benefit from a textured surface. The texture help hides those deficiencies that might otherwise be more visible on a smoother paper. I actually met a photographer once that told me he puts all his earliest digital photography on canvas or a textured paper because his files are not large enough otherwise.
The third characteristic to consider is the quality of the paper. Quality refers to the ink receptive top coat and raw materials. Some papers excel better than others in this area. Take for instance our house stock the Archival Matte Paper. While a great choice and incredibly, it does not compare with a higher end paper like our Hahnemuehle Photo Rag.
I prefer papers which are a majority if not all made of cotton. They must also use an optical brightening agent (OBA) that holds up. For those that are unfamiliar with this term, OBAs are a chemical/bleaching agent that give papers their whiteness levels. With run of the mill papers, lower quality OBAs break down over time, eventually causing any printed image to become litter duller or even less bright. To be safe, all our papers use the higher end OBAs. However, if you still want a high-quality paper without any OBAs at all then I recommend the Entrada Rag as a good example of an OBA free paper.
Always know that not all papers are alike nor, should you expect the same quality output on different papers. The bottom line in choosing a paper for your photos must be based on personal preferences. You should try different papers. Decide which is best for your images and stick with it unless you find something better.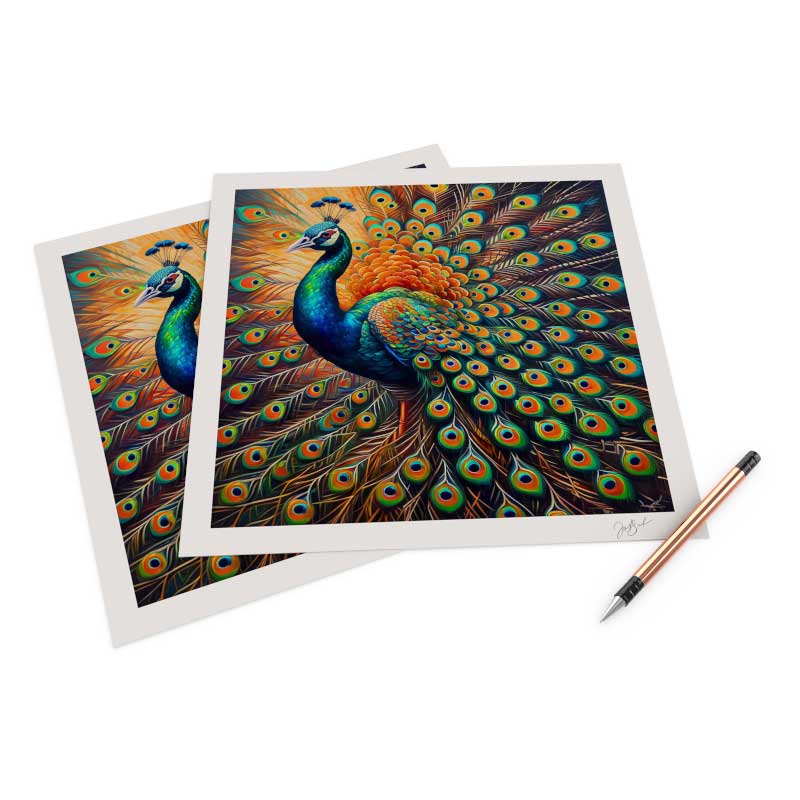 Giclee Printing at FinerWorks
One of the largest ranges of paper selections, while using the highest level of archival print technology allowing superior detail and color, you can create custom giclee prints of your artwork and photos.