One of the perks of using FinerWorks for my print order-fulfillment is that I practically have zero overhead. Print-on-demand fulfillment means that I can sell something online without having to keep a physical inventory of products on hand.
It's the perfect business concept, am I right? No inventory to keep track of, and as long as one sells X number of items every month, profit is guaranteed. Who wouldn't want a business model like this? If done properly, it definitely works.
While I could spend hours explaining the logistics involved in attaining and operating a successful business model. I'm sorry to say, this post isn't one of those.
The Customer is Always Right?
Uhhh… okay, this one is a bit tricky. From one perspective, the one where I'm hurting for sales and/or reviews, I may be inclined to temporarily enforce such a practice, regardless of my policies. But from an educated and rational  perspective, such desperate measures are just that – desperate. Being inconsistent with store policies will only hurt in the long run. Whether you sell on Etsy or somewhere else, having clear customer service policies in place can both lower your losses, and save you from sticky situations (like bad reviews).  But if you lack the confidence, or tact, to enforce them when the need arises, then your customer-service policies won't do you a bit of good.

As you probably already know, customer-related incidents can easily translate into lost revenue, so over the next few months, I'll be sharing customer service tips, ideas, and best practices. Delivering outstanding customer service will help you maintain your revenue and keep losses to a minimum.
The Case of the Confused Customer
On September 13th of this year, I received the following message from one of my buyers:
"I placed an order a few weeks ago for an iron sharpens iron picture. I thought it would be on sheet metal. After opening the present yesterday, my husband was disappointed with it. May i return it?"
Exhibit A: 12×18 Framed Fine Art Paper Print
Call me a stickler but I have a business plan and I intend to stick to it. Regardless of how sweetly she asks, I'm operating a business.  The fact of the matter is that my customer wasn't paying attention to what she was ordering.
"I thought it would be on sheet metal. After opening the present yesterday, my husband was disappointed with it."
Instead of asking directly if I accept returns, she begins by offering an explanation as to why the return policy might not apply to her circumstance. This indicates that she has very likely already read my shop policies but is hoping to get me to make an exception.
Exibit B: My Return Policy
Again, don't get me wrong. Asking me to make an exception doesn't make her a difficult customer. In fact, I almost appreciate having her as a customer just for the sake of keeping me on my toes. But let's be frank. It's not a comfortable situation. Regardless of the fact that she completely neglected to read the product description that clearly specified it to be a fine art paper print, the responsibility to find a resolution now falls onto me.
So I have 2 choices.
I can take the "red pill" and make an exception. She sends it back (at her expense), I refund, lose my sale, and likely avoid a bad review.
Or, I can take the "blue pill", and trust my store policies to do their job, while maintaining a respectful and professional rapport with the buyer and… likely avoid a bad review.
I chose the blue pill:
Thank you so much for reaching out, (customer). I'm very sorry to learn that it wasn't the item you were expecting – yes this is described as a paper print. Though I do not accept returns, I'd love to do what I can to help.

Let me know if you would like me to print this onto a metal panel for you instead. My metal panels can be easily framed. And you can simply switch the paper print out once the metal print is received.

If that sounds like an option let me know. The cost would be for the difference of the paper print – close to about $28 for the 12×18.

Again I'm so very sorry for any confusion, and if you have any other concerns please let me know.
Before we get into a formula for telling a customer "no", I just want to stress once more that having clear and concise store policies in place is essential. Return policy is huge but don't forget shipping policies and production times. As the face of your business, you'll need to be prepared to handle anything that comes your way. If shipping times are out of your hands, clarify this in your shipping policy. If you sometimes experience high volumes and have a hard time maintaining a consistent turn-around time, disclose this in your shop policy. If you want to cut your customer-incident-related losses, cover every base there is.
The Sandwich
If you've ever worked in management, you know all about this concept. Imagine a sandwich. The first layer (the top) is soft and cushion-y. Then comes the harder-to-chew middle, or the meat, followed by another soft layer, or the bottom. The "sandwich method" is kind of the go-to for delivering not-so-great feedback. The idea is that you start with something soft and warm, like positive feedback or an expression of appreciation. Then, address the issue at hand and close on a positive, encouraging note.
Top Bread Slice:
Address customer by name
Thank the customer for contacting them
Acknowledge customer's concern
It's important to address the customer by name whenever possible, and thank them for contacting you. Always thank them. It feels good to be thanked for input, and in many cases this will make your buyer more receptive to whatever it is you have to say next. Show empathy by acknowledging your customer's concern and expressing your understanding.
Meat:
Be brief and to the point
Refer to policies if needed
Once you've established your rapport using the "top slice", you can go ahead and give it to them straight. Don't over-explain the reasoning behind your answer (your policies should sufficiently do the explaining).
Bottom Bread Slice:
Express your remorse in not being able to grant their request
Express interest in providing them an alternative resolution
Thank them again for their correspondence
Close with an "Open-Door" approach
Let them back down easy by stressing again how very sorry you are that it did not work out but follow up with an alternative.
Example: A customer orders a framed print and then decides they don't like the frame color. Offer them the option to purchase a different colored frame at a reduced price (cost plus shipping),  As long as you keep the sale, you don't need to up-charge anyway.
Thank them once more for taking the time to contact you about their concern. And solidify your commitment to offering satisfaction by closing with an "open door policy", offering to answer any other questions they may have.
The Ruling
That sounds great. Thank you!! How shall we proceed?
After confirming with me that the panel would fit into the frame which they already had, she went for it.
I have to admit, I was surprised by her enthusiasm. Although my resolution was ready to put into action, I didn't actually expect her to bite.  Clearly, acknowledging and addressing her concern and providing an alternative, served well to nip the return discussion in the bud.
I followed up again by providing her a link to purchase the metal version of her print. And you  know what? Over a month later, she still hasn't ordered.  So did I call her bluff or did she just get busy and forget to order? I guess we'll never know.
But three things I do know:
I didn't lose the sale
I didn't compromise my shop policies, and
I avoided a bad review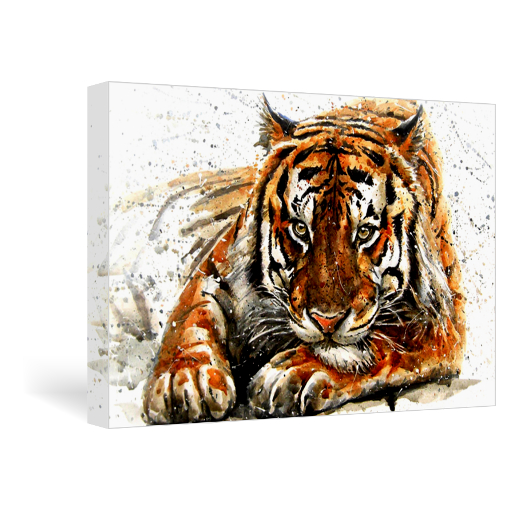 Order Giclee Printing on Canvas
Printed using some of the highest archival standards in the industry, your photos or artwork will last for decades to come.