At FinerWorks, we are always on the lookout for the latest in giclee printing technology and try to incorporate it within our product line as soon as possible. One of the newest and exciting updates is a new ink formulation which comes to us via Epson.
For giclee printing, we tend to stick with the mainstream. This includes utilizing either Canon or Epson printers and inks which are most used within the fine art and photo printing industry. In the majority of cases these use an ink in which the carriers of the pigments is water. Canon calls these Canon Lucia Inks and Epson calls them Epson Ultrachrome inks.
One exception has been the Artisan Archival Canvas and the Silverada Metallic Canvas. Instead, these use a more durable and scratch resistant solvent version of the Epson Ultrachrome inks. The color and tonal range are considered narrower than their water-based cousins which are used on our matte or glossy canvas however with recent updates to the base canvas coating itself or internal technology updates, we have come incredibly close to matching the same in color output.
Now Epson did it again and we are happy to announce another evolution. We are now migrating the Artisan Archival and Silverada canvas to a relatively new water-based ink system by Epson called Epson Ultrachrome Resin inks.
So what are RESIN inks?
Resin based inks are essentially Epson Ultrachrome pigmented inks in a water-based solution however when printed, the pigments are encapsulated by a resin which quickly cures and bonds to the surface of the media (in this case canvas). This bond is much stronger than that with solvent inks and even stronger than your traditional water-based inks wile also seemingly to have a wider color gamut and higher print resolution. This means we will see better color accuracy in your prints.
How Are These Different then HP Latex Inks
Whereas HP engineered something similar in the form of their HP Latex technology commonly used for everything from canvas prints to signage, we feel Epson has one-upped them with the new resin inks. Before we made this switch, we had to do some side-by-side tests with the help of one of our suppliers. We were in the process of adding another Epson S80670 which is the latest in Epson's Eco-Solvent line however my contact with the company suggested we look the Epson R5070 which uses the resin inks. So, we printed a series of images on all 3 printers immediately noticed something very interesting. The tests showed the Solvent and Latex inks came back were stunning and almost impossible to distinguish from each other. The only difference the latex based print appeared tiny bit grainier. We then compared them both to the Resin inks. Right away we noticed more neutral black and whites than the other two, and more balanced color saturation. It's important to note these differenced were incredibly subtle. From a durability standpoint, all three withstood the scratch test very well so it was very hard to gauge this personally however I did notice less gloss differential on the print with the resin inks which means on a matte surface you will see minimal differences in how the light reflects off the surface regardless of the color. Overall though the resin was clearly a winner in our book.
In time I think this will continue to improve and we will begin seeing this technology used even more for fine art and photo printing due to the durability.
What About ICC Profiles?
For those requiring the latest in ICC profiles, a new profile is available for the Artisan Archival Canvas and Silverada Metallic Canvas.
ICC profiles can be acquired on the canvas media page:
https://finerworks.com/products/canvas-prints.aspx
Note that the difference in color is improved with the new profile over the previous one however these differences will be extremely subtle and may not be noticeable in most images.
Are the Inks Archival?
Generally, more so however keep in mind the concept of inks being archival is part marketing and part based on conclusions the Wilhelm Imaging Research conducting experiments on different inks and media combinations. While in the industry see holes in their methods, they were generally considered one of the better authorities. There has not been much new research coming out from them regarding this however we do know that the Epson Solvent Ink line in which the Artisan and Silverada Canvas was previously printed with had a permanence higher than your typical water-based pigmented ink giclee print  usually use. To go a step further, the Epson resin inks are considered even more stable and long lasting than the solvent inks so it is safe to assume they have a greater permanence of any. Just know as of yet there is no official labeling of archival in the same sense the Canon Lucia or Epson Ultrachrome inks.
Can You Paint Over It?
You should be able to use either acrylic or oils without any risk of smudging or smearing the underlying inks. Just like any media you will want to test to see what works best for you. Different paints can have different chemical make up which could potentially harm any print however compared to other printer inks out there, the resin inks are likely to handle being painted over more than any of the others. Except for UV cured inks the Epson resin inks are once of the most durable and scratch resistant ink systems out there.
Can You Feel the Resin on the Surface?
No. The resin inks simply are a formulation of the ink which means the pigments are encapsulated by a coating of resin. Think more like a print that has its own built in laminate properties. Once cured by the printers heating element, the inks lie flat just like any other inks.
Are the Resin Inks Glossy or Matte?
The inks themselves are neutral and not impact the media they are printed on. If printed on a matte surface, the inks will not add any sort of gloss to the surface. Likewise, if printed on a glossy canvas like the Silverada Metallic Canvas, then those media's glossy surface will continue to be visible.
Are the Inks More Environmentally Friendly?
Compared to Epson Eco-Solvent Inks, yes. Because the main carrier of the pigments is water, the environmental impact of waste disposable is considered substantially less.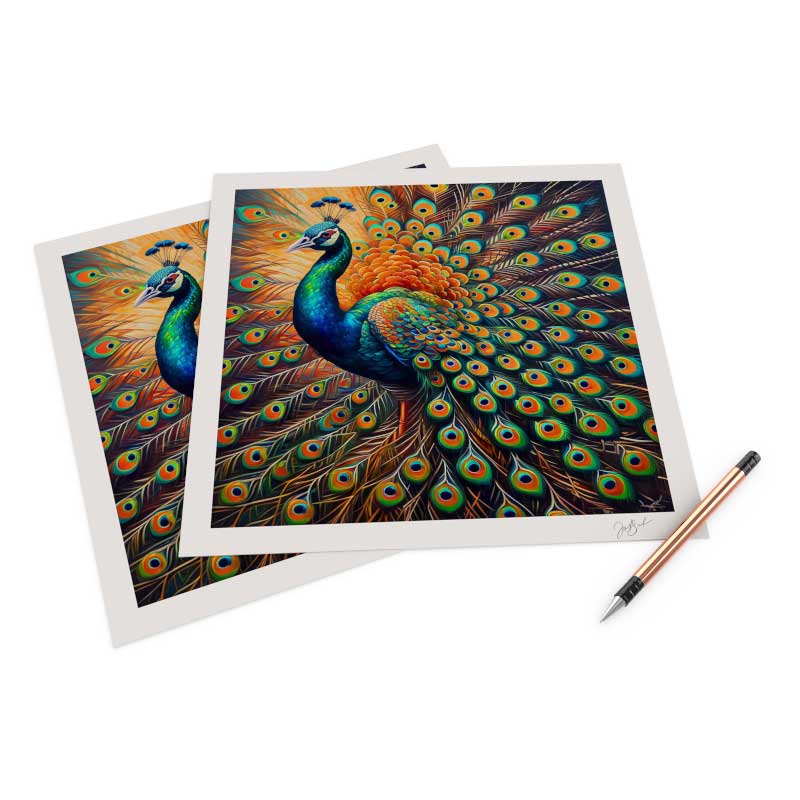 Giclee Printing at FinerWorks
One of the largest ranges of paper selections, while using the highest level of archival print technology allowing superior detail and color, you can create custom giclee prints of your artwork and photos.