Glazing is a term a picture framer will use to refer to the glass in a framed picture. I am not a big fan of the term since it does not quite convey a proper meaning and sometimes people assume it only refers to the glass so for now just know glazing is a clear plate of glass OR acrylic that covers the face of the framed print.
I have been told a lot of frame shops around the country tend to prefer glass to acrylic. There is a good reason for this. One reason is sometimes the glass option is less expensive and many times customers will gravitate to the less pricey option. Another reason is glass resists scratching better than acrylic. But even with these benefits, there are two big problems: glass easily breaks and glass is heavy. For that reason, we really cannot effectively offer actual glass. Over 99% of our orders must be shipped around the country and we already knew glass has a very high rate of breakage during shipping no matter how well you package the artwork. The constant jostling the package goes through on trucks, trains, and planes is eventually going to add too much stress to the glass. And let's not forget the added weight which will stress the frame more while in transit and also increase the shipping cost.
Acrylic on the other hand is much less likely to break plus still affords an archival standard of protection for your prints. While it may seem like a cheap knock-off, it is not. Some museums even prefer it to glass because it is less likely to break and damage original artwork. And while glass may be more common with many frame shops, many times they will recommend acrylic over glass for their larger picture frames.
Even though acrylic may seem to be the superior alternative it is too imperfect. A few things you want to watch out for. One it does scratch more easily so cleaning should be done with a very soft non-abrasive cloth. While rare, I have been told it can noticeably bow or warp if exposed to heat or direct sunlight on a sunny day. (I have yet to see this myself) The little it might naturally occur with larger prints are usually not going to be noticeable however it does have the potential to put added stress on the integrity of the frame just like glass.
Glazing at FinerWorks is not automatic as an option. Instead, it is an optional requirement for those type of framed images that the artist or photographer thinks needs it. We have had people contact us asking why we make it optional. One reason is sometimes the artists want people to be able to see the fine texture and detail of the media the artwork is printed on. Other times they might want to simply save on the small added cost of the glazing.
There are also times glazing is not used at all. For instance, a canvas will typically not be ordered with glazing and in some cases, you really can't order the glazing such as with a canvas floater frame since there is no good way to secure the glazing to the front.
Glazing without matting is possible at FinerWorks. When we first started offering picture framing, I had not recommended this however we now utilize spacers that create a very small gap between the print and the surface of the print so it does not come in direct contact with the printed work. As a result, I now almost always, unless a canvas print, recommend glazing on any non-canvas framed print regardless if it has matting or not.
Overall matting is preferred in conjunction with glazing on any unmounted print since it gives the glazing more contact surface.
Glazing, whether it be glass or acrylic also poses some challenges overall. One it adds to the weight of the frame which makes it very problematic for frames with thinner moldings that cannot be joined as strongly. The extra weight also means extra care needs to be taken when selecting a spot to hang it so that the nail does not give way.  Usually, either of these is only going to be a potential problem with bigger framed prints. Another problem is small bits of dust particles can get trapped between the glazing and the artwork which can be distracting to the presentation. One thing we have noticed is that even with the care we take to prevent this by wiping the molding and glazing down carefully beforehand, tiny particles can eventually flake off from inside the frame and stay trapped behind the glazing.
As to the question of if you should choose to glaze when made available to you, I highly recommend doing so, except in the cases of canvas prints. The benefits of the protection of expensive originals and high-quality prints on fine art media will outweigh the slight cost and help give most framed art a nicely finished look.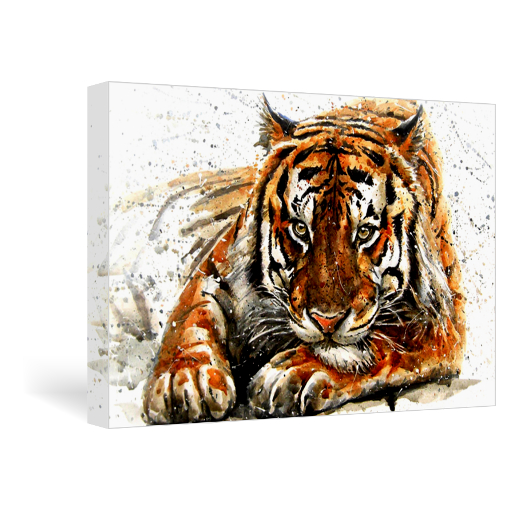 Order Giclee Printing on Canvas
Printed using some of the highest archival standards in the industry, your photos or artwork will last for decades to come.