If you are drop shipping your orders, there are things you can do to improve your seller to buyer relationship. Many times, online sales are built around how a seller treats their buyers, especially with first time buyers. With selling artwork and photography online, creating repeat buyers as collectors of your work should be a goal. Below we will share 3 of the methods at FinerWorks we see has been extremely effective.
Including a Thank You Card
A thank you card is fast becoming a widely used method we see people use with their drop ship orders. This can be unique and personalized or can be based off a template. The most common and easiest to implement, especially if you do not want to spend a lot of time in this is to have this prepped well in advance and use the same card for all your orders.
Creating a card is easy at FinerWorks. Simply start your order by clicking any of the "start order" links on our website and upload the artwork you want for the cover. Create a card from that image and include it with the same order for whatever print you want us to send to your customer.
Now if you want to save some time, you will want to upload the images you use into your "inventory" files (not your temporary files). From there you can create a card and save it to your virtual inventory of products. Each time you need to include it, simply add it to your cart.
Some people will create a folded card. You can also include a "flat" card which is a two-sided card. Most people will use an image like a logo or other design on the front and use an image that has formatted text for the back side. I like this option simply because you can format and control the font style and size much better since you can use a program like Adobe Illustrator or Photoshop which has a wide range of text formatting tools. Some will even include a QR Code which can direct people to their social media page or website.
Check-in on Your Buyers
Large companies use software called CRM (Customer Relationship Management) so their representatives have as much information as they can about the customer. They will have immediate access to everything from the person's order history to what their past concerns might have been. The purpose is so when the representative is communicating with the customer, they can engage with them in a fashion that makes them seem familiar and personable while also being able to help them more efficiently.
Don't bother to search for CRM software. You will see programs advertised like Sales Force or NetSuite. Most artists don't have their own sales team and corporate structure which is what those are designed for. Your online store's back end probably has most of the tools you will need. This will include your customer's name and address, email, possibly phone and of course their order history. This level of information allows you to advertise to these previous customers with efficiency. And if you want to better manage and utilize this data, tools like Mailchimp, Constant Contact provide some features that are perfect for the small shop owner.
Notification of New Work
Keep your customers abreast of new artwork or photography you have created. This can be done in a newsletter format using email services like Mailchimp or Constant contact, or via social media services.
And even if you don't always get people to purchase, it will go a long way to improving your exposure and brand to a worldwide audience. I know a lot of our artists have found success this way, and many rely on this as their primary form of marketing.
Having a large base of subscribers or followers is not something you will likely build overnight so be patient. Encourage people to subscribe or follow. You can always incentivize them with something like free shipping or even a small discount. But, if your artwork or photography truly appeals to them, simply providing the appropriate subscription box or links to your social media pages should be enough.
I will warn you that with social media, you do not own that data. On a whim, a social media platform can remove some of your followers or change the rules in determining how or when your posts are seen. I would recommend trying not to become too invested with any single social media platform. Also keep them separate from your personal accounts. One of the most tragic things I have seen in this realm is an artist being or even worse, banned.
These 3 tips are things I have seen as being effective for the individual artist. There are tons of articles on things you can do to increase repeat sales with an online store but not all of them are appropriate or may work for you. Take for instance the idea of the "loyalty" program which is constantly touted by ecommerce experts where people earn points every time, they purchase from you. Do you think it will make that much of a difference with encouraging someone to purchase your artwork? Maybe in some scenarios but I think in most cases not. Instead, focus on techniques which make sense for you.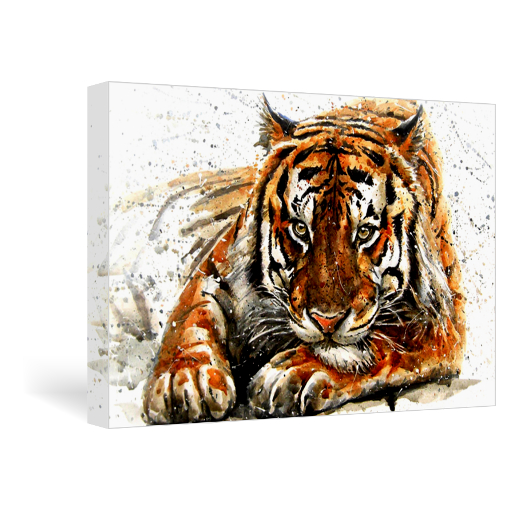 Order Giclee Printing on Canvas
Printed using some of the highest archival standards in the industry, your photos or artwork will last for decades to come.