In today's digital age for a lot of new photographers, printing photos is relatively novel and sometimes even rare. For photographers whose talents date back to the darkroom era, it was all about the prints. In between somewhere are those that may print on special occasions for that image which really means something to them, or they are providing a print to someone. No matter where you are in the range of printing your photos, there are some ways to make your photo print stands out.
The giclee print is that unique type of print you may be looking for if you are doing photo prints. It is not just for artists making reproductions. Giclee printing is the ideal format for that special photo print. Over the years we have seen more and more photographers adopting them as the print of choice.
Almost all the photos I have hanging in my home are produced using the giclee process. I prefer it for three main reason over a standard Kodak print: the longevity that archival media and inks provide,  the variety of media I can choose from with different textures and surfaces, and finally the photo quality production which when properly printed rivals that of any other type of photo print. Some may want to debate that last reason but more and more photographers are starting to agree and switch to the giclee process.
By no means is a Kodak (chemically produced print) a poor choice. Even those have improved over the years but not at the rate giclee printing has. While have provided many fine art photographers prints on a  Kodak paper of their choice, one thing is certain, the majority of the photo prints ordered from us now are made with the giclee process.
Doug, a local photographer came to us recently wanting to produce some prints of his photography. He said that he usually goes to local photo lab to have them done for his weddings and portrait sessions, but he was referred to us by another photographer who frequently uses us for his fine art photography. In this case Doug had a family portrait to be printed for a client. The family wanted to swap out an older portrait they had hanging over their fireplace in a frame.  He was charging quite a bit for the portrait wanted the unframed print to look special. We showed him the different papers we offer, provided details about their properties and showed him samples. He chose our Somerset Velvet fine art paper. With its subtle texture there was no doubt this was not your standard photo print.
Doug case is just one of many similar scenarios. Many photographers use us, also use other labs but when it comes to that special photo print, FinerWorks has become one of the leaders.
Why have so many photographers adopted giclee prints? The answer is simple: superior color range and wide range of paper choices as I alluded to when describing why I print my own photos as giclee prints. For photographers, they know it is also likely to hang and not end up in an old shoe box. It has a sense of value, otherwise that might be absent.
Some Tips to Make it Special
Sign the print. Make it "yours" even when you are selling it. The simple act of hand signing your name places perceived value to the print. Even if it is an open edition; buyers appreciate it when the actual photographer signs it.
Choose a paper that enhances the photo and talk it up. There are many types of papers to choose from. Pick one that does not take away. There are highly textured papers such as our Premium Giclee you can choose. There are also glossy and satin papers such as our Satin Luster. And of course, there are plenty of smooth matte surfaces like the Hahnemuehle Photo Rag or even the Hahnemuehle Bamboo. No matter which paper you choose they provide you the fullest range of colors and contrast possible. Let your customer know.
Add a border or decked edge. You want your photo to be perceived as art, right? We know it is art but to help it standout with potential buyers and be seen as art, add a large border and decked edges around it.
Consider providing a certificate of authenticity. This further creates a perception of fine art rather than just another photo print. It is also a way to further describe the paper's properties, longevity as well as the inks used. There are templates for MS Word you can find online.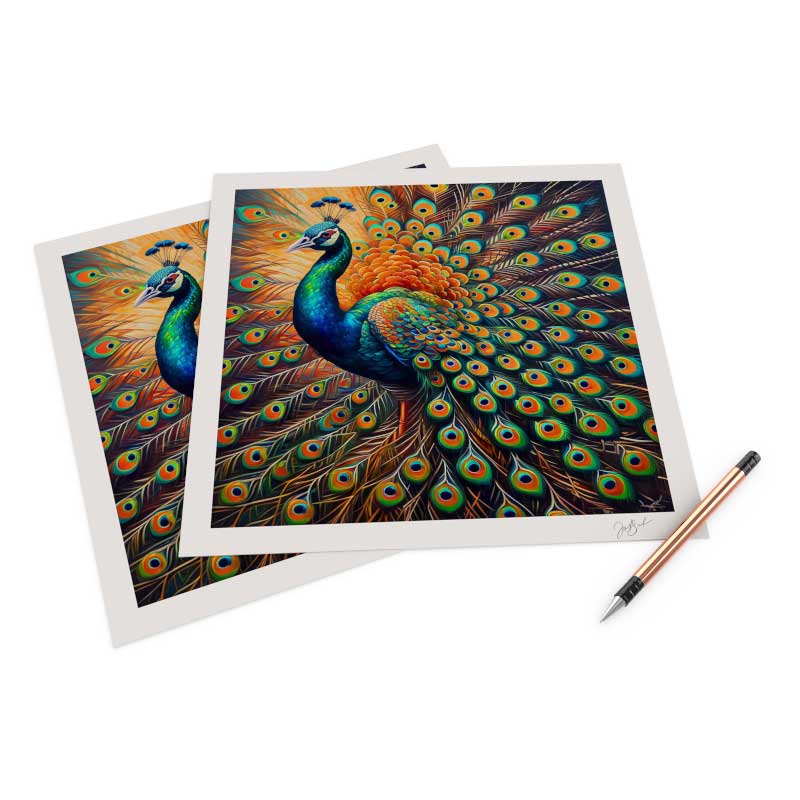 Giclee Printing at FinerWorks
One of the largest ranges of paper selections, while using the highest level of archival print technology allowing superior detail and color, you can create custom giclee prints of your artwork and photos.