Are you accepting international orders? If not, why aren't you? When we refer to international orders, we of course mean orders shipping outside of the U.S. since we are based in the United States. Many artists and photographers do them thinking it is too complicated or too expensive to ship. If that describes you, you may be missing out on a golden opportunity if you use FinerWorks as your fulfillment partner for your prints. Starting last week, we adopted a new program called UPS i-parcel that should make things easier and less costly. Using us to fulfill your orders (drop ship) means it is even easier.
When one of our users inquired from us if she should accept orders internationally, I told her there really was no reason not to. She had a website and was already having us fulfill her orders for canvas and framed prints. As a matter of fact, she was in a great position to do so, since her digitally painted photography featured beautiful landscapes of the southwest and Rocky Mountains. Her response was that she did not think there was much of a market overseas for that type of work. She soon discovered she was so wrong. It took a little work to update her website so that she could accept multiple currencies and languages, but the result was well worth it. Within a few months her international orders matched her domestic orders.
Benefits
The benefits should be obvious as illustrated above. Foremost it opens the possibility of a whole new customer base for you which means more sales. Even if you were open to accepting orders from just the main English-speaking countries alone (Canada, UK and Australia), we are talking about a population of about a third of the U.S. If you were to include all Western Europe, that number surpasses the United States. Add in certain Asian countries and the numbers become much greater.
With those greater numbers you are simply adding to your potential fanbase which important for any artist that wants to increase the number of potential collectors.
And the cost is should not discourage you. For instance, if you are shipping a $20 print that you sold for $50, your cost is only $14, which means you still made $36. How is this calculated. We now charge only $10 plus 20% of the subtotal. Of course, a higher priced print will be more but you can easily factor that into your shipping rates via something like a regional surcharge if you sell on sites like Etsy or have a Shopify site.
Tips
So if you are ready to start selling your art prints internationally there are a few tips I should share. It mainly covers transit times, customs, tracking or the occasion an order is lost or damaged.
1. Be willing to accept longer transit times. Transit time refers to the number of days it takes to get to your customer. This will vary greatly dependent upon the country being shipped and even where in the country. If your customer habitually orders items from the U.S., they won't be surprised. A safe estimate is two to three weeks however it may get to them sooner.
Providing an estimate can sometimes be difficult so if a potential international order comes your way and the customer inquiries about it beforehand, there are some online tools that can help you determine the cost like Simply Duty: https://www.simplyduty.com/import-calculator/
If using the Simply Duty tool, just make sure to describe the product as either "printed material" or "artwork". You can play around with other descriptions but be careful not to be too precise since finding a qualified product may be difficult.
2. Be aware of customs. Each country will have their own set of rules when it comes to the packages making it through their customs. This is part of the transit time. Because we are shipping items that rarely pose a problem for customs, usually this goes very smoothly. It is also a good idea to warn your customers that there may be additional associated custom fees which sometimes means they have to pay an extra tax when it arrives at their door. From our experience most international customers are not surprised by this or expect it.
3. Tracking packages has gotten much better. Before it seemed many packages would get lost in the ether until your customer contacted you to let them know they got it. It still sometimes happens so if after a few weeks your customer asks, "where is my package", let us know. We now use a UPS international service called i-Parcel which provides much more reliability for international shipment since they handle all the appropriate paperwork for the countries they are destined for. This alleviates the chance that an order gets held up in customs due to improper customs paperwork required for that country.
When you are tracking a package that we sent out, just be aware that for 3 or 4 days, there may not be any activity on that tracking number since it is currently in transit to the i-parcel facility in Illinois. Once there they handle the rest and will begin updating the tracking. Once it get's to the destination country it is turned over to the appropriate delivery service which will continue to update the i-parcel tracking number for you.
4. Dealing with lost or damaged shipments. The chance of a package getting lost or damaged does increase some simply because of the transit time and the number of hands the package must go through. If it does happen contact us right away so that we can make appropriate arrangements for a replacement. You will also want to do a few things to help us. Make sure that you confirm the address is correct. Most often a mis-delivered package is a result of an incorrect address which can be easy to do considering international address formats can vary. If damaged, try to get photos of the damaged merchandise and the condition of the package when it arrived just as you would with a domestic order. That is simply to help us determine if we need to make any changes as to how the item should be packaged as well as allow us to file the appropriate claim.
Conclusion
Internal shipments may appear to pose more challenges than shipping domestic. Sure, it is possible to make a little less on those orders due to the additional cost associated but most of our users find it is a fair price to broadening their customer base. As the eCommerce world continues to become more global, don't get left out. There are a lot of orders out there for your artwork. Take advantage of them today.
If you have some tips you would like to share to help other artists reach an international market, share them below.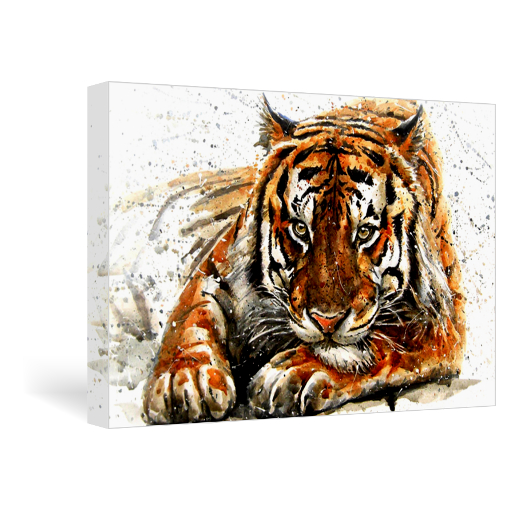 Order Giclee Printing on Canvas
Printed using some of the highest archival standards in the industry, your photos or artwork will last for decades to come.