A number of years ago I worked with a guy that told me he once was a sorter for either UPS or the U.S. Postal Service (I can't remember which) and he said they would see photo mailers with the words stamped on them that said "Photos. Do not Bend". They would then bend the envelope and say "Oh yes they do". I hope he was pulling my leg but sometimes wonder.
UPS, USPS, or FEDEX…Sometimes I have to laugh to myself when customers tell me of their delivery stories. I am not laughing at the customer but laughing to myself with a sense of cynicism. I am not a cynical person but I have come to form my own opinion on the big three: UPS will break things for you, FEDEX will loose your package and the Post Office will do both. Fortunately the rate of any of these things happening is way below 1% but I know it does not feel that way if it happens to you. And trust me it probably will happen at some point in your lifetime. As a matter of fact I recall a series of incidents in which a lady would order from us but literally one out of two orders would arrive damaged or would be lost. We are not talking about carelessly packaged items but canvas prints with plenty of cushioning and in strong corrugated side loader boxes. She said this happened to her all the time whenever she ordered anything online. After about her third time contacting us we became suspicious that something seemed out of the ordinary but sure enough when I looked at some of her tracking numbers and transit logs for items shipped by us, UPS had documented the problems while somewhere in transit. She still orders from us but now she has the prints shipped to her friends house. Since doing that she has not had any problems. Wierd.
Now imagine you have a canvas print which you need drop shipped to your client and then discover that the print was damaged at some point. That is not good. It makes you look bad and you had nothing to do with it. It makes us look bad as well in your eyes.
I don't know how many but tons of prints we ship are for Etsy.com members who rely on us to fulfill their orders. One of the great things about Etsy and similar sites is they allow the buyer to post feedback on the order they received. I am happy to say it is extremely rare that the artist's customers are disappointed in the print's they receive from us however we have been made aware of incidents in which items are damaged or lost while in transit.
Regardless of how you are selling your prints or where, if you are using us to drop ship your prints we want the entire order fulfillment as stress free for you as possible. The great news is we have you covered and want your customers happy. Here are some "do's" and "don'ts" to help speed up the process of making sure your customers are happy if in the rare case thier is a mishap with the shipment.
Do tell your customer the prints are guaranteed and you are going to help get the prints replaced with new ones.
Don't contact the delivery service about replacing the print since they will tell you to contact the shipper anyway. Leave the contacting with the courier to us. Most of what we ship is insured anyway so if you are concerned about someone eating the cost of the damaged item either us or the delivery service will.
Do get a description of the damaged package and how it appears to have been damaged if known. Be brief but as detailed as you can.
Do contact us right away by phone or e-mail. If it is after business hours send us an e-mail. E-mail will be the most reliable method at anytime since phone messages are transcribed and may sometimes be garbled. Make sure you include your name and your order number.
Do verify your customer's address if the delivery seems unusually late. Then verify with us you have provided the correct shipping address. It is very important to enter the correct shipping address.
Do provide your customer instructions on what to do with the damaged shipment. Usually we have the Post Office or UPS pickup the damaged package and damaged item. After you contact us we will tell you what the customer needs to do with the package.
I know how frustrating it can be to deal with damaged prints, especially when you are first starting out and trying to make a good impression and establish a customer base. The most important thing is to keep your customer feeling like you have everything under control even if you do not feel that way. If they sense you are handling the issue quickly and efficiently they will comfortable in ordering from you again.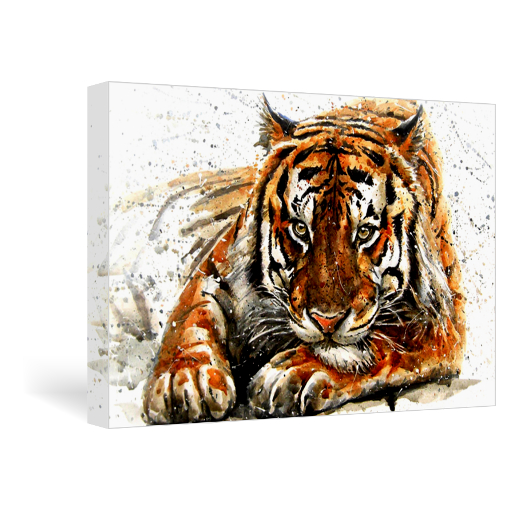 Order Giclee Printing on Canvas
Printed using some of the highest archival standards in the industry, your photos or artwork will last for decades to come.