Perhaps a little overlooked technique is the ability to use a giclee print as an under painting. Artists are all the time applying light strokes and daubs of paint to their giclee prints to give them a more original look, so why not create some original work this way.
Just like you would on a canvas with paint, this is the process of either blocking in your artwork with the dominant colors for the purpose of composition and detail. Instead, you would do all this digitally on your computer in with a program like Photoshop or Paint Shop Pro to name a few. If I plan on painting a very detailed painting, then I may practically create the entire painting digitally first and then add paint over it. If I plan on doing something fairly simple, or more impressionistic, then I may simply block in some color for composition purposes. It's whatever you want. I even know of one artist that uses a program to outline photos (essentially creating a drawing) then he colors the canvas with paint, producing beautiful masterpieces which he sells on a regular basis.
Some general tips if you plan on taking the digital under painting approach.
Have your print stretched and mounted. It makes painting easier. If you don't have the people at FinerWorks stretch and mount your print, do it yourself. This is probably common sense to most artists that paint on canvas.
Care needs to be taken on the type of pre-finishes you use. Acylic clear coats seem to work well for acrylic paintings and fixatives seem to work better for oils. You may find neither work for you but so you may want to experiment or ask someone at an art supply store what they recommend.
Make sure you fade the sides. This means your main composition and any print does not go edge to edge. Instead you soften then edges so there is no clear line where the print begins. Doing it this way makes it easier to hide the print under the painting. You may have to consult your image editing program on how best to do this.
I have been told from the CS people at FinerWorks that they see a lot of artists doing this so it is obviously not anything new. One portrait artists and illustrator use it a lot because it is easier for her to draw a small drawing on 8 ½ x 11, then scan it, and then upload it to create a print. She then take that print of their drawing and start their painting.
Some may think any of this is cheating. If you are traditionalists, I can understand why you may think that and I don't fault an artist for thinking this way. The truth of the matter is that it really depends on your own preferences, style and methodology. As long as you feel conformable in your approach, don't' let others dictate what is proper and what is not when it comes to the methods you choose.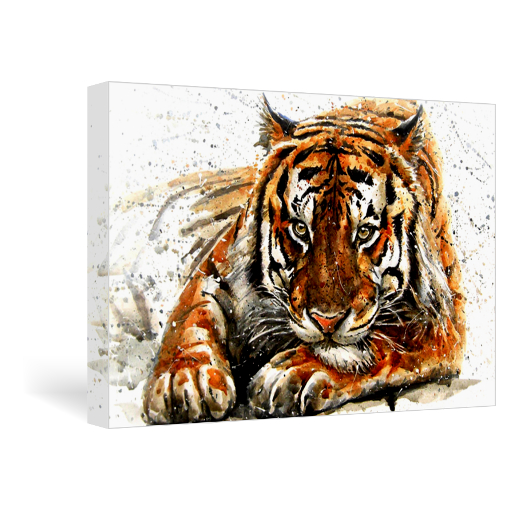 Order Giclee Printing on Canvas
Printed using some of the highest archival standards in the industry, your photos or artwork will last for decades to come.