What's the best advice you can give me regarding reproducing my drawings? I hear that a lot and my response is don't make them look like photocopies. Reproducing a drawing as a print is not extremely difficult but can have their own set of challenges to be aware of. While color matching is only an issue if the artist is using colored pencils, getting the print to look like an original drawing versus a photo of a drawing printed on paper is one of the most important things to be aware of.
As an example, an elderly lady approached us a while back to reproduce a large piece she had done in pen and ink when she was younger. She had a number of prospective buyers interested in prints and wanted members of her family to also have copies. She decided to order a hundred copies.
The image file she provided us was an excellent copy. She had the drawing photographed by her son with a good camera and lens. The drawing was well in focus and the overall resolution was excellent. Unfortunately her son dropped the ball there when he submitted the order for her. Luckily one of our print specialists noticed that the image needed some real work. Overall it was too dark and the paper showed visible yellowing. The printers we use today or extremely accurate and will print exactly as it sees the digital file. If there is any color in the original paper or the original paper is not completely white, it will be visible in print (see my recent post about printing white). We contacted her to let her know of this problem. She said she had not even considered that when she had the order placed and asked us to adjust the image so it looked like the print was an original drawing. To fix the image we opened it in Photoshop and removed all the color which turned it into a black and white image. This removed the yellow from the paper. The image still was too dark. If printed that way the original paper would show up as darker than the paper it ordered to be printed on. With some tweaking to the color, contrast and we were able to remove the original paper from the image so the drawing was all that was left. Once the image was printed the causal observer would have thought it was an original drawing on a nice art paper. Below is an example of what we did. It is a different image than described above but should give you a good visual example of what was descibed.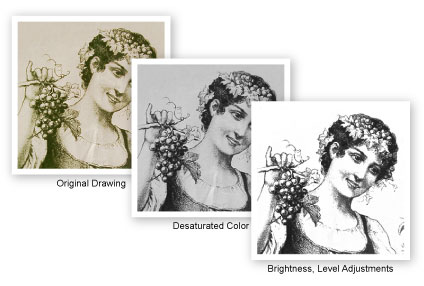 This is not something we do automatically with all orders so if you need your image adjusted and not sure how to do this, please contact us first before placing your order.
One last word of caution when it comes to printing drawings. While we focused on the issue of the actual background paper, do not forget to consider the color of the drawing itself. Occasionally we see such drawings in which they print out in shades of blue or red. While it can be very subtle and not recognizable on the screen if your monitor is poorly calibrated, it may be visible in the actual print. A lot of times this is a result of photographing a drawing and not having the color balance set correct in the camera. Sometimes is can also be the way the image was scanned. If your drawing is suppose to be black but has a colored hue then the second step in which you desaturate the color should resolve that problem.
So if you have an old sketchbook stashed away and you want to make some prints, try not to forget about the original paper surface the image is printed on. Sadly we see too many drawings submitted to be turned into prints in which either the artist is not concerned or simply is not careful enough. Recently one of our regular customers did a run of a drawing she did and she had several proofs made before she was satisfied. That type of meticulousness resulted in an excellent reproduction which I am sure her clients appreciated without even knowing.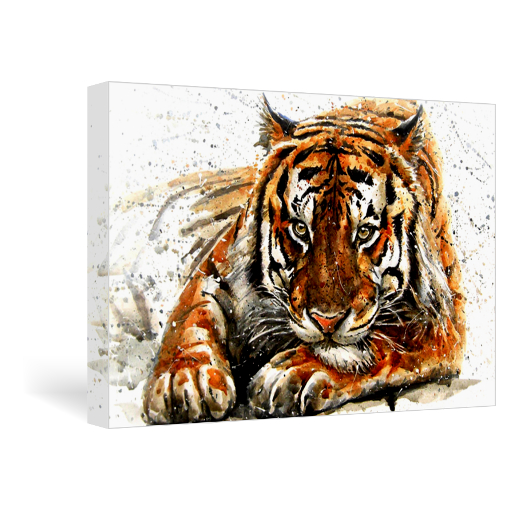 Order Giclee Printing on Canvas
Printed using some of the highest archival standards in the industry, your photos or artwork will last for decades to come.