You can now order your prints matted without a frame. Our customers have been requesting this option for the past several months since we started to offer custom framing services. I am now happy to say that this option is here.
How to Order Your Prints with a Mat
Framing is optional but if you just want to order your prints matted without a frame, start your order like you normally would for any of your prints on fine art papers.
Once you have selected the style and size of your print, go to the "Framing and Matting" box
Under "Style" choose the "Matting Only" option. You will then be able to choose from any of the matting options we offer.
By default, the matting outer dimensions will be 3 inches larger than your print size however if you want a bigger space between the matting window and the outer edge you can always choose a larger mat size. This is a common trend now days. Below is an example simulating a relatively small print 10×10 print in a 20×20 mat.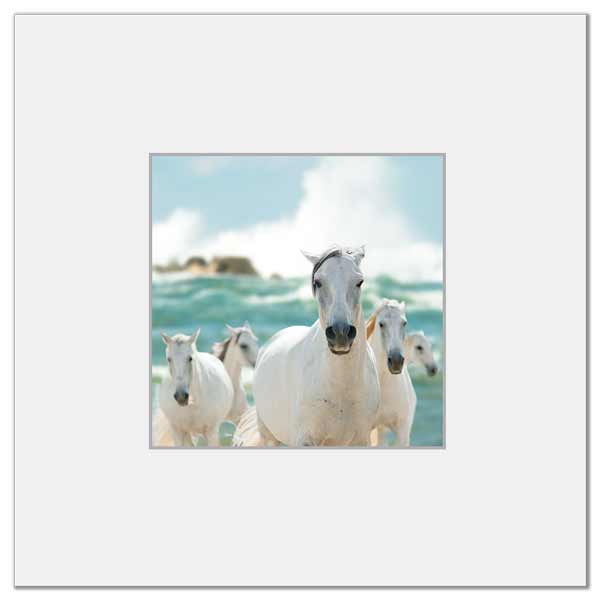 What is the Advantage of a Matted Print vs Without Matting?
While you prints always look finished and ready to hang if in a frame with or without matting, let's face it: framing is an added expense. One of the reasons we now offer matted prints is our customers quickly told us that they wanted to order custom mats with windows cut to the dimensions of their prints so they could sell more prints!
Whether it be at an art show or online, a matted print will have a more finished look then just a plain print. As I have said in the past framing adds and extra element of tangibility and perceived value to a print. Matting a print too can help in that area. So, if you want to limit your expense but still want to provide people a product that appears to be more than just a piece of paper with an image on it, at least offer them a print with matting.
One Last Recommendation for Odd Sized Artwork
There is no rule that says your mat window must remain the same aspect as your frame and your artwork. And if your prints are generally not of the commonly perceived sizes, you may want to choose a mat size that is. Let's say you have a print which you want to be 10×16. Selling it may be easier if you offer it in a mat which conforms to a common frame size like a 16×20. This way your buyers can easily frame their print by buying a low-cost ready-made frame at their local art supply store.