The More Things Change the More They Stay the Same
Despite all of the advancements in technology since the introduction of window displays back in the late 1800's, presentation still holds the most chips. And, as any successful store window designer knows, it isn't enough to simply show off your products. No, you've got to set a stage; a scenario. Create something to which your shoppers can actually relate. You have to implant an idea into their minds – one that tells them how perfectly your product fits into their world.
But here's the important thing. It is the store owner who hires this window designer. And the displays are built using products in the store's inventory.
The benefit to using an order fulfillment service, is that you don't need to invest in stock or inventory. But don't let that fool you into thinking that you aren't responsible for showcasing your products. Just like any other store/shop owner, you'll need to build a display. And if having zero overhead is your ultimate goal, the best way to build your display is by using graphic design skills.
But don't worry so much about graphic design skill just yet, because even if you don't have any graphic-design knowledge, there's still a way!
DIY Framed Mock-ups 101 
The Gallery Economy frame is a great frame to use if you're just starting out. There's a few reasons for this. It's one of the most classic, basic frame styles on the market. It is available in multiple colors. It's an all-wood frame. And most importantly (wink), it's easy to mock up!
So how does one create mock-ups of their framed print products?
"I was wondering if there was a way to save the mockups for product images so I can upload them to my website? For example I am offering a large assortment of framed print styles with my artwork and it occurred to me that I need an images of what it would look like but was unable to locate mockups or product images on your site."
If you need mock-ups, there are a few ways to create them yourself. Even if you have very limited graphic design knowledge! As much as we would like to be able to provide graphic services for your product lines, our specialty at FinerWorks is printing and order fulfillment. Still, having high quality images of your product line is extremely important to bring in potential buyers. So today I want to share some tips to help you get started.
By Paying a firm or a website to create mock-ups for you
If you don't know how to create your own graphics or just don't have time, consider hiring a graphic designer to work with you. Just bear in mind that many charge by the hour and there's really no way of knowing whether you are getting your money's worth if you don't understand the trade. It may be better to negotiate a cost-per-mock-up. This way, the designer is more motivated to produce. There are firms that specialize in graphic-design services but because you are not paying the graphic designer directly, you may still find yourself over-paying.
If you prefer the ability to manage the look of your mock-ups directly, you may be happier with an online mock-up generator. Although a handful do offer free mock-ups, most of these are subscription based services. Some will allow you to purchase individual mock-ups if you don't want to commit to long-term.  Check out the list of mock-up generators below:
by Using imagery on our website
You can build your mock-ups from scratch if you choose. Our frame moulding page features high resolution images of each frame style, type, and color we offer.  These images may be used as-is or edited for use in creating mock-ups. The print preview is also a great starting point for setting your frame moulding dimensions. Play around with print/frame sizes to see how specific mouldings' widths are perceived as the size increases or decreases. Perceptively for example, a moulding on a 16×20 will appear thinner than a moulding on an 8×10.
Authors note: You'll need a good understanding of graphics software to build your mock-ups from scratch. I try to keep my overhead as close to zero as possible, so I use a combination of the above practice, along with photoshop, as well as a 3-d graphics program to capture as many details as possible (right down to paper texture) and to keep perspectives on spot.
by Using Photoshop Templates, Actions, and PSD Files
There are a ton of resources online, both paid and free for commercial use that can be utilized to showcase framed prints. Many are classic and basic styles, making the Gallery Economy frame an easy one to replicate.
Below is a list of frame and poster mock-ups collections compatible with photoshop:
https://inscribemag.com/free-psd-poster-flyer-mockups/
https://blog.spoongraphics.co.uk/articles/20-free-psd-templates-to-mockup-your-poster-designs
https://www.mockupworld.co/free/photo-frame-mockup/
https://graphicburger.com/artwork-frame-psd-mockups/
https://webcreativeall.com/frame-mockups-psd-templates/
Amazing Frame Mockup Templates at designazure.com
Free Photo Frame Mockups at template.net
And Don't Rush It
Creating your mock-ups can be a tedious process but don't rush it. Remember, the more consistent your product line is, the easier it will be to produce appropriate mock-ups. The more detail you can provide in  your product photos, the more likely a buyer is to purchase from you. Quality is  a standard that must be met when it comes to showcasing your art prints and products. It may very well be the one thing that sets your work apart from an other's.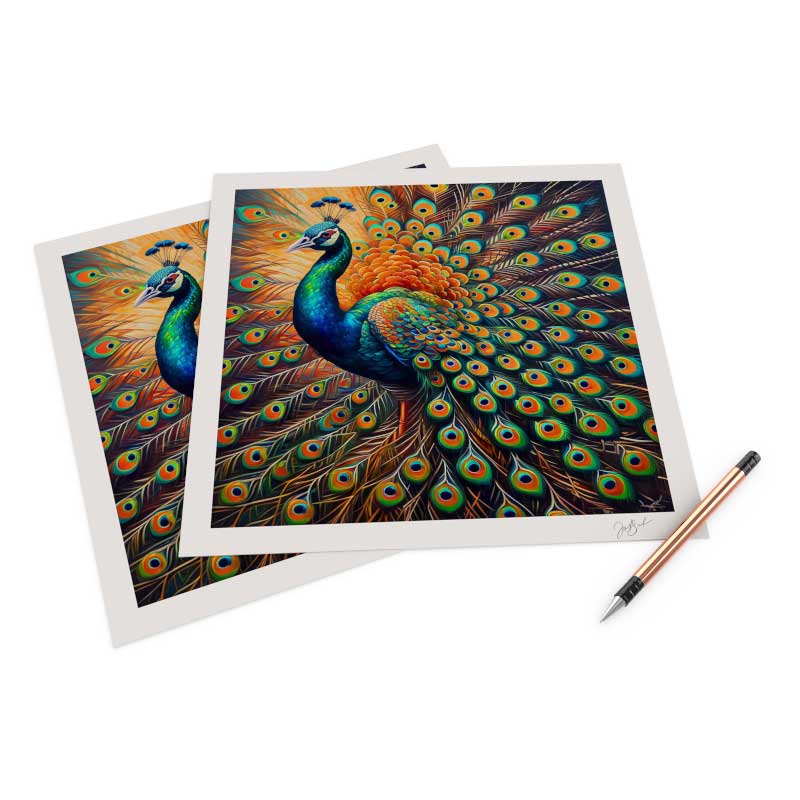 Giclee Printing at FinerWorks
One of the largest ranges of paper selections, while using the highest level of archival print technology allowing superior detail and color, you can create custom giclee prints of your artwork and photos.