Are you thinking about how to best prepare your prints for being successfully sold? You might be surprised at how often enough consideration is not given or maybe you have not thought much about this yet. Either way, below are some tips to help your prints sell more successfully that you may or may not have thought about.
The Display
Let us start by working on the general display. How you display your print is important no matter if you are trying to sell it online or offline. It begins by imagining how your think you buyers would want to show it in their home or work-space.
If online, a good place to get ideas is Etsy. Browse some of the product listings and note how many sellers setup their graphics. Focus on artwork posted there by the "successful" sellers who have had lots of sales and are rated highly. What you will notice in many cases they are provided an attractive format that may include props, or a mock-up of how it would look on a wall, etc. These are relatively easy to do with a little Photoshop knowledge. Use that to inspire you when it comes to setting up your own product images for your website, ads or other online marketplace.
For offline sales, take a hint from any major retailer that invests time and effort into making the products that are on display appear enticing. This is simply good retail sense. Consider the environment your photo or art prints will be displayed. If a gallery, there may be a chance that the gallery owner will handle all this or they may have a prescribed format for display (such as require a frame or other ready to hang option).
If selling at a fair or other popup market, the place to start is get ideas from some of the other sellers. But most of all, try to provide your artwork an environment that will attract potential buyers.
The Print
As for the print itself, decide if it needs a frame, only matting or just the print. There is little to debate when it comes to the power of a picture frame. It enhances and converts an otherwise simple sheet of paper into a art piece. However, if you choose not to frame it, at consider a mat. And if that is not an option, at minimum choose a bordered print as the style since it heightens the value. Most of all focus on ways to accent the image.
For unframed prints that are not ready to hang go with a size that is easy to find a ready-made frame. The exception might be if your prints are presented to a high-end crowd where they will likely want to custom frame it anyway. But in those situations, you will likely be providing it in a frame anyway.
Choose a paper worthy of your artwork. The options are numerous but for the best perceived value a cotton-based rag photo / fine art paper is best. There is nothing wrong with your standard Kodak style print, but your prints should reflect "fine art". Even the if using best quality Kodak paper, your buyers might not understand how it differs from the type of Kodak print they get at their local pharmacy.
Last, sign the print. There is no consensus on how this should be done. Some photographers will state that you should never sign a print on the front, but instead in the back. This might partially be attributed to the photo challenge format that many photo clubs adopt so that the judges are not influenced by knowing who the photographer is. But in the case of a fine art photography, unless there is a prescribed format you must follow, you can sign a photo print on front, like you would any other fine art reproduction.
The bottom right margin is the most popular position. Sign in pencil if the surface allows you to do so and you are signing on the border or in a margin. If the paper is some sort of glossy or satin photo stock, then you will likely need to use a pen or marker that is fast drying and in a color that contrasts with the area of the image is placed. If using ink, use an archival grade fine tip pen or marker. These can be found at any art supply store if you search for archival markers.
These all are just some tips to help make your artwork more sell-able. Feel free to post your own ideas below that will help others successfully show and sell their prints. There is not one size fits all but any artists or photographer should develop a game plan and discover what works best for them.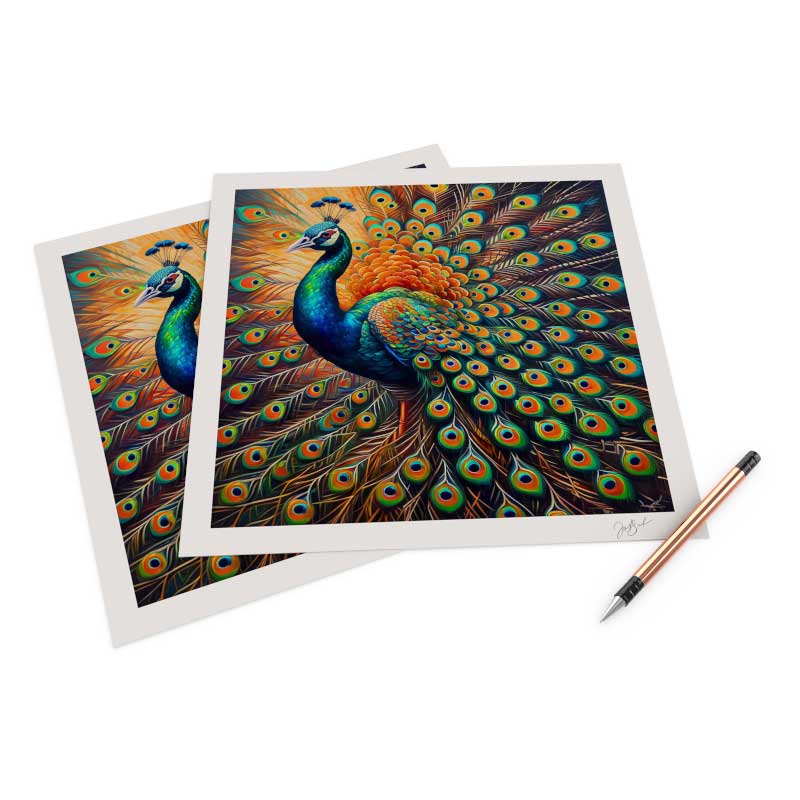 Giclee Printing at FinerWorks
One of the largest ranges of paper selections, while using the highest level of archival print technology allowing superior detail and color, you can create custom giclee prints of your artwork and photos.