Spring 2018 is here and with that starts the season of events to sell your art at booths.  For the last five years, I have been an assistant to an artist who has enjoyed working events for the last 26 years. We are a dynamic duo of set up and sales.  
I thought I would share some of the tips I have learned over the last five years and open the floor to share other ideas to help artists and photographers have a successful 2018.
SELECTING EVENTS
In December take a look back at the year and see what worked, and how much you spent verses your sales.  Create a budget so you know what you can manage for the upcoming year.
Items to budget:
Application and fees

Travel Costs

Booth staffing – even if it is just you put value to your time.

Cost of prints and time on originals plus materials

Sleeves and bags

Print cost

Media cost

Tent and presentation (repairs or if needed cost of new one)

Tables/Table Covers/Tie-downs/Tent walls/ display walls/Lights & extension cords

Payment reader and fees

Signage and tags

Taxes if applicable

Advertising
Zapplication.org has a list of festivals and their submission deadlines and fees.
I sometimes look at artists that have participated in the events and reach out to them to ask how the festival did on traffic and sales.
PROMOTING YOUR EVENTS
Create Facebook Events for each event with your booth number. You can invite individuals by city. You can also list the events on your website calendar and the clickable link can be the Facebook event you created.
Post on social media though it is going to be harder for your audience to see keep up the practice.
Ask friends in the area of event to repost.
From advertising budget look at how much you can spend to boost those events.
Make flyers/cards/ to have for your bags that promote your social media, website and next events at which you will be selling.
Press information. Send out information about you as an artist, keep it brief (they can contact you for more information), a few samples of your art (don't mention prices or art for sale), then that the public can meet the artist and view work at upcoming event.
If it is a monthly publication send 8 weeks before publication

If it is a weekly publication send 3 weeks before publication

If a daily publication send 1.5 weeks before publication

Include all your contact, website and social
SELLING IT
Pre-sell:
I try to do some pre-selling. If collectors want to save on shipping they can pay for their order before hand and pick up at the event. I try to make fees and staff time at minimum before the event date.
Answers to objections: 
"Oh You're Out" or "I would but I don't want to carry it around nor come back to pick it up" or "I don't have a vehicle to take it home in today"
Never lose a sale because you sold out of an open edition print or because they do not want to carry it around the event. Take your tablet and have a customer order it there through your website and have it dropped shipped to them.
"The price of the original is too high, how low can you go?"
If you are an artist who makes prints of your original work, I try to stay pretty firm on the price the artist has given me on the original. When someone asks how low can I go on the original to take home today, I usually say, "Well, the value is set to go home today. In fact the work is priced at an artist studio price and once it goes to a gallery for sale, the price will increase. Art is not like a car that depreciates in value once it leaves the seller. If anything, art is an investment that can yield a profit for the owner as the artist matures in his or her career. You seem to like this painting so what I can do is – if you buy today, I will give you a set of prints that are signed by the artist." These prints I have gotten at a low cost because we bought in bulk for the year.  If I am going to move a 4 or 5 digit original piece I am not going to sweat a gift. If you still get an objection still get their information with, "we are glad that you love the painting, if you leave me your email, I will send you informations when we have giclee canvases ready for sell". I have the whole speel of "we have very high resolution photos shot of the work and once it is sold to a private collector and we will make limited edition giclees".
"Well if you are going to make prints why should I buy the original?"
There is sometimes an objection about value of an original piece because of prints. My answer is, "Actually, this helps the likelihood of the value increasing of the original. As the popularity of the artist and his work gets out the value for obtaining the original can go up."  People want to feel good and as an artist don't haggle your work's value down. Think of the works of masters, iconic because any person recognizes the art because of posters, mugs and items on which they have been sold. Usually, I tell the buyer think of yourself as a curator, if you have good taste in art you will enjoy being around it and the collection will increase in value because you have the eye for it.
People want to feel special in the buying process so think gifts rather than a discount. More than likely you have art items you already give to friends who buy your art at discount or you gift it to them. These items you can use to close an original sale.
Make the prints valuable:
With open edition prints, I try to make sure I sell the quality of the printing.  We use giclee inks and high resolution photography of the artwork on fiber art paper, or .

At the events I have the artist sign the prints by hand.

Closed edition prints will never be sold in this size and medium again.

Certificates of authenticity can be given with each print. (See in links below on creating one, if needed)
People buy from who they know:
The story. In giving some of your background and finding common ground you are creating agreeability. When a buyer gravitates to a piece I love to tell the something about it. Having someone help you at sales is awesome but get people who know how to tell the story. Selling the art is having that authentic and enthusiastic voice.  Genuinely I am excited that the art is going to continue its story by going to a collector.
BUILD YOUR CUSTOMER BASE
No sale that day; don't worry because if you have gathered the interested browser's information you are cultivating the future collector who may even want to do a commission.
If you use ChimpMail, Constant Contact or a similar newsletter software there are apps you can put on your tablet that let people sign-up for your newsletter. I find it easier than trying to decipher bad handwriting and this cuts down the work to enter emails from a physical sign-up sheet. One field I have added to the sign-up has been zip codes so I can make custom list to events.
Those cards and flyers that you prepared for shopping bags should also go to every person you get to sign-up or shows interest in your work.
YOUR TURN
In the comments:
Do you have that sage advice of a seasoned booth seller?
Is there a question you want to ask?
LINKS
How to create a certificate of authenticity
Order certificates of authenticity from FinerWorks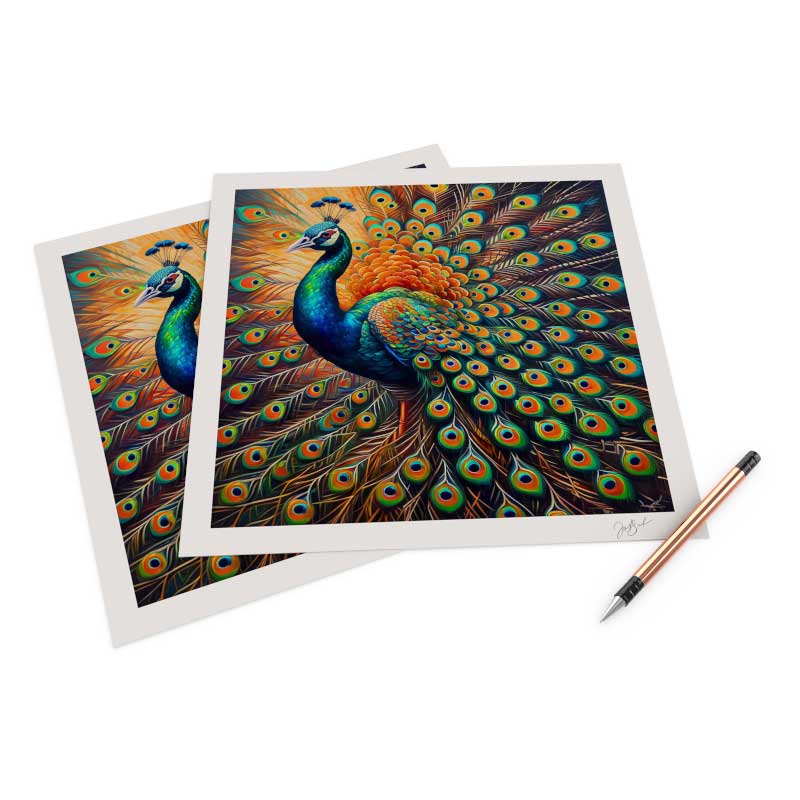 Giclee Printing at FinerWorks
One of the largest ranges of paper selections, while using the highest level of archival print technology allowing superior detail and color, you can create custom giclee prints of your artwork and photos.