Many artists want to know how earnings and payouts will work if they partner with Geo Galleries. If you are an artist considering joining Geo Galleries, understand Net Sales are what you make from the sale of a print or product which your image printed on it. This is based in part by the retail price offered to the buyer on the Geo Galleries website. Payouts are sent on a regular schedule and are the accumulation of your net sales for that payout cycle.
Setting Prices – Minimum and Maximum Price
You as an artist can set a price based on half of what it would normally cost you to 3 times of what it would normally cost to order the print product. In other
You as an artist can set prices of print products in your virtual inventory at either a 50 to 200% markup. This means, if a canvas print cost you $100, the minimum you can offer it for sale is $150. Words Alternatively, the maximum you can set the price at $300. For those who's eyes glaze over with math, we will provide you a price range where you set your price. Below is also graphic which illustrates how it works.
Frame Exception to Min-Max Price
Any print products with frames have a bit of an exception to the above formula. The cost for framing or matting is factored into what the minimum and maximum price can be. Using the above formula, if you added frame cost another $50, the minimum and maximum price will increase by $50.
So How Much Do I Get?
That is the question I am sure you really want to know. Understand that Geo Galleries must pay FinerWorks the regular print (and any framing) cost. Geo Galleries receives a 10% commission of the total print sale (before any framing) in the form of a seller's fee. You the artist receive the net of that sale.
Based on that, if the buyer were able to purchase a print at the minimum price, FinerWorks would receive $100 for the print, Geo Galleries would receive $15 (10% of the sale) and you would receive the remaining net of $35.
If that is not enough for you, you could set it at the maximum price. In that case FinerWorks would still receive $100 for the print, but Geo Galleries would receive $30 (10% of the sale) and you would receive the remaining net of $170.
Price Competitively but Fairly
While anyone's instinct might be to automatically set your price at the maximum price you can so you can earn the most, be aware of how it may influence the sellability before you decide on a price:
Some buyers might shop with a price range in mind so automatically you might shut out potential buyers.
Some buyers might associate cost with quality. Going too low might create the sense that the print product is not up to the same standards as a different artist's image on the same type of print product.
If your print product has a frame with it, frame prices vary greatly by style. If you chose a high-end frame, it can easily be 5 times more than the print so, it might be a good idea to offer unframed options, so a print does not appear to be too pricey.
When Do I Get Paid?
Before we can payout the artist, at least 30 days since the purchase date must have passed. Once 30 days have passed, the payment will be scheduled for the upcoming payout cycle. Initially payout cycles will occur once a month via however, in the future, we will offer a weekly payout option with the option of a direct to bank transfers.
The reason for that 30-day time frame is to provide the buyer some time in case they need to return a print and requested a refund. If that happens then the corresponding payout will need to be cancelled.
You as an artist will have access to your payout schedule within your account. This will list any orders which you have both been paid as well as pending payment. Once the payout is completed, you will also have access to some of the buyer's information so you can add them to your list of collectors.
No Virtual Inventory Yet? We Have You Covered
If you do not have at least 3 virtual inventory products per image, don't worry, we will offer products to potential buyers some options. These will automatically be set at 100% markup. So, this means if once of the options is a $100 canvas print, it would be offered for sale at $200. After FinerWorks and Geo Galleries' receives their portion, you would receive $80 (40%) of that sale.
If you have any questions, feel free to post below or email your Geo Galleries' rep at help@geogalleries.com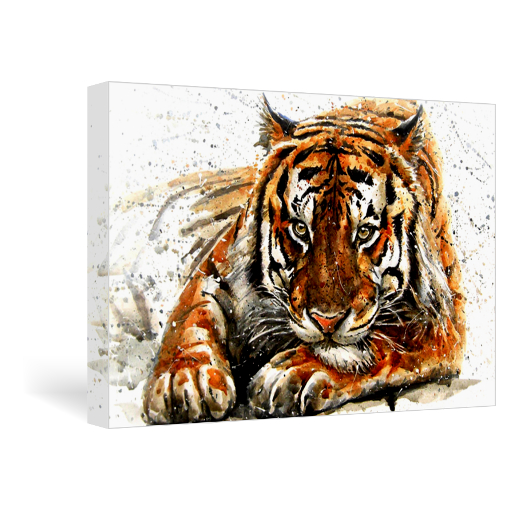 Order Giclee Printing on Canvas
Printed using some of the highest archival standards in the industry, your photos or artwork will last for decades to come.