Periodically people ask us for suggestions on how to best display their print for sale or framing. I try to offer some suggestions when we are approached with this type of inquiry but the first question I ask is if they want to place their prints within a mat. There is a lot of emphasis on choosing a frame for your art and photo prints but sometimes overlooked is the importance of matting. Not only does the mat help highlight the artwork, it also acts as protection so the glass or acrylic does not come in direct contact with the print.
Print Size and Mat Size
If you are going to mat your prints, I always recommend choosing to have your print made with either the ½ inch or 1 inch border. As an example if you have a print which is an 8×10 and the mat window is sized for an 8×10, that extra border going around the 8×10 image will give the cut sheet ample size to secure to the back of the matting.
We had a customer frustrated that none of the mats at her local art supply store had a mat with an 8×10 window. She was afraid that some of her artwork would be cut off, most notably the signature would be only partially visible. This problem was because unless you are custom cutting your mats most pre-made mat will have a window is going to be slightly smaller than the printed artwork. Again using that 8×10 example, the window will likely measure ⅛ to ¼ smaller. Imagine if you tried to mat a 8×10 borderless print and the window was also 8×10. You would have the problem of the print wanting to fall through the opening.
There might be instances in which you actually choose a mat with a larger opening than the print's total sheet size. In this type of display the print will appear to float between the mat window edges. I have seen this seems to be popular in instances in which a print has a deckled or torn edge (which we now offer). On a side note about floating prints, if you opt to not have a mat, make sure you have some sort of spacer so the glass does not come in direct contact with the print.
As is the case with most things related to decor, there are trends in matting. One framing supply company I know indicates on their website that the now days people seem to opt for wider mats meaning the space between thin mat window and the edge is greater compared to a couple decades ago in which people opted for thinner margin on the matting. I see this with photography as well. Right now it seems a more favorable display for fine art photography is a minimal frame with a wide mat. This is my own personal favorite way to display photos since it gives a nice contemporary look. One other advantage with the larger mat style is it can ultimately give a smaller print a more expansive presence on the wall.
Mat Color
When it comes to choosing a mat color, there seems to be the consensus in opinion among professionals I have spoken to that what is most important is the color does not draw your attention away from the artwork itself. I would also add that today there is a trend for people to choose bolder colors when painting their walls. If you have framed and/or matted prints on display somewhere for sale, be aware that any color other than white might play a role in your buyer's decision on the purchase of that print or not. I say other than white because white tends to be both a safer and neutral color and less likely to clash with the wall.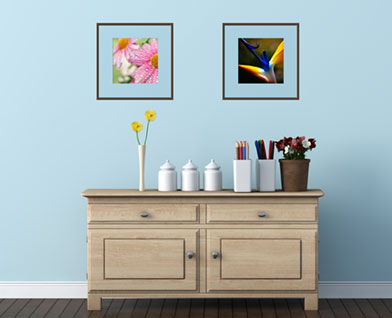 Colorful mats are okay but don't let them detract from the artwork or clash with the wall color.
Mat Materials and Archivability
Choose a mat which is not going to harm the print over time. There are 3 primary different types of mat materials: paper, alpha-cellulose, and rag. Paper mats are going to be your cheapest in quality and price. They are simply made from paper pulp. You want to stay away from the paper mat since overtime the acidity levels in these can harm the artwork in side. These are also typically the same mats found in cheap ready made frame kits you will see that the art and craft superstore or Walmart. The alpha-cellulose, made from wood pulp is engineered to be acid free while the rag mat is made of cotton which is naturally acid free. Incidentally most of our papers we print on are either alpha-cellulose or cotton which makes the prints more archival.
Mismatched to Frame Size
At times you may find yourself in the need to mat an odd size print which is not exactly ideally suited for a frame you might have lying around. For instance, you might have a square 12×12 print and only have a 16×20 frame. You will likely need to have the mat custom cut so the outer dimensions matches the insert of the frame. Another popular choice is to bottom-weight the mat which means the bottom mat side is larger. I have seen some artists will further use that bottom margin to cut out an additional widow which might display the artworks title and the artist's name.
Digital Mats
One other alternative to matting, yet which will give your artwork a matted look is to create a digital mat. This will give you the ultimate control in both color and the appearance of texture. Just the other day a photographer I know had us print up some photos for a competition he was entering them in. They all had a type of digital mat effect which enhanced the artwork considerably. When framed the print would be able to stand on it's own without a physical mat. I seen this done quite often and have even seen some artists will add drop shadows and strategic bevels in the inner window edge to trick the eye even more into thinking a real mat is being used. Not until you get within inches of the print can you tell that it is not a real mat. When framing, the only thing I would recommend in this situation is to make sure you have some spacers between the print and the glass so it is not in direct contact if possible. Digital mats can be created with an image editing program like Photoshop or Photoshop Elements.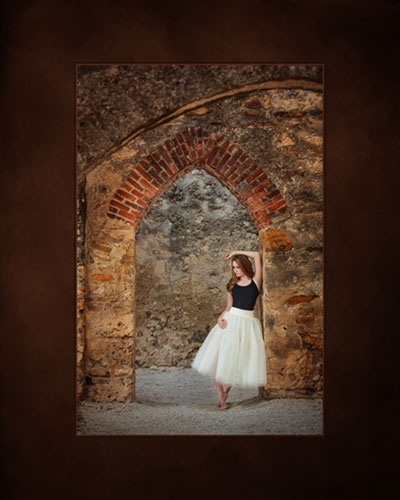 Digital Mat Effect
Photography by Ross Benton of
Studio Benton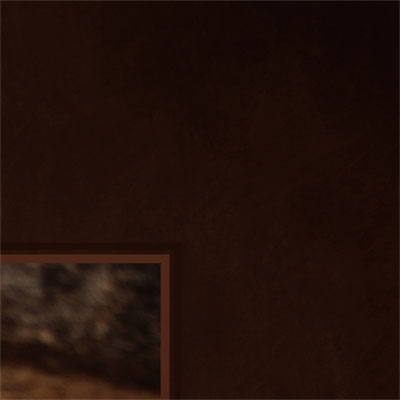 Close Up of Mat
Photography by Ross Benton of
Studio Benton
Lisa Langell of Langell Photography shows you how to create an interesting digital mat in Photoshop. In it she actually uses part of the original image as part of the mat.
Do it Yourself Hinge Mat
Matting your prints is not difficult either. And it does not have to be expensive even if you need to cut out the mat window yourself. This is easily done with an exacto knife and a straight edge. Uncut matboards are readily available in different colors both online and offline at various art supply stores. Once your have cut your mat and the window opening its even easier to mat them with something called a "hinged mat". Hinged mats are mats in which one side is has the window while the back side is solid. Hinged mats make an excellent way to display prints you might be offering for sale but don't want to place in a frame. The following video illustrates how to create a hinged mat to display your prints.